If you are looking for a side hustle to make money online, transcription sites could be the best option to earn money from home without much skill. In this post, I will share the best websites to get online freelance transcription jobs.
The post is for a beginner searching for transcription jobs that pay daily or the best place to find transcription jobs at home and earn passive income.
Transcription could be one of the best online jobs for beginners as it requires very basic skills to start the work. You need good listening and typing skills to make money.
What do Transcriptionists Do?
The role of a transcriptionist is to listen to dialogues, conversations, or speech in audio-video format and convert them into a written, readable format.
The job of a transcriptionist requires excellent typing skills and keen hearing; that's the only tricky point in this kind of job. It gives high rewards in terms of money but also requires accuracy and a commitment to produce the high-quality written document.
What is the Earning Potential for a freelance transcriptionist?
The earnings through transcriptionist work are subjective in nature as it depends on the skills and expertise of the transcriptionist.
Generally, the earnings depend on the company's pay-per-audio minute rate; hence it also requires high typing skills to earn a good amount of money. As per general standards in the transcription industry, it usually takes 4 minutes to transcribe 1 minute of audio (4:1).
In the beginning, your scale of earning money will be on the lower side. However, depending on your skill and expertise level, the more clients and experience you get, the scale of earning will rise gradually.
You can expect an average income of $20 to $45 an hour from working online at home. You can also charge a higher per-hour amount if you make fewer errors.
What are the Pros and Cons of Transcription jobs?
Like every online work, transcription has its advantages and disadvantages. So, it's better if you know all the nitty-gritty of the job. Here are some of the pros and cons of a transcription job.
| Pros | Cons |
| --- | --- |
| The flexibility of doing work at your own convenient time and place. | There is no job assurance, as freelancing has inherent risks associated with this. |
| Requires very little skill to work. | Many fake freelancing transcription job sites charge a fee to work for them. |
| Improvement in skills of typing and listening to different voices. | There will be severe payment issues if you need help understanding the industry and legal framework. |
| You can get extra time by choosing this field and exploring multiple relatable earning sources. | There will be a need to put some expense on tools you are required to use in your work. |
How to start working as an online transcriptionist: Step-by-Step Guide for Beginners
If you are a newbie and looking to start the transcription work, our step-by-step guide will help you kick-start your journey. The guide will help you to step up on the correct path to the best online transcription job for beginners:
Step-1: Understand the basics of nuances of the language, i.e., how a native speaker talks and the everyday slang used by native speakers. Etc.
Step 2: Consume more and more English audio/video content to develop excellent listening, writing, and language skills.
Step 3: Practice typing as much as possible while listening to a native speaker in different locations. The way of pronouncing and using phrases of a person from New York is other from a native speaker of Pennsylvania.
Step 4: Take good courses on grammatical and English speaking to develop good punctuation skills.
Step 5: You must have the correct equipment to start with the work (a computer or a laptop and a good headphone)
Step-6: You must be proficient in MS Word/Google Docs for writing transcription and also good in proofreading and editing tools.
Step 7: Choose a trustworthy platform to find good transcription online, earn work and earn regular money.
Step-8: Set up a valid PayPal account to receive payment, as PayPal is supported in most countries worldwide.
Once you have all the necessary skills and tools, it's time to Explore good online transcription earning options.
Top 10 online sites to find transcription work.
We have made a list of the Top 10 best places to find transcription jobs at home for those who want to earn a good amount of money from the best-paying transcription sites.
1. Rev.com
Rev.com is the first and most popular site to work as a transcriptionist. This platform provides freelancing work to transcriptionists & Cautioners and pays weekly.
The range of pay offered by Rev initially for talented typists is between $0.30 – $1.10 per audio/video for a minute.
A step-by-step guide to earning money from transcribing through freelancing on Rev.com
Signup on www.rev.com/freelancers
Take a quiz to observe your English and Grammar Skills
Submit a sample transcription
Wait for approval from the Rev team for analysis of customer quality expectations.
2. TranscribeMe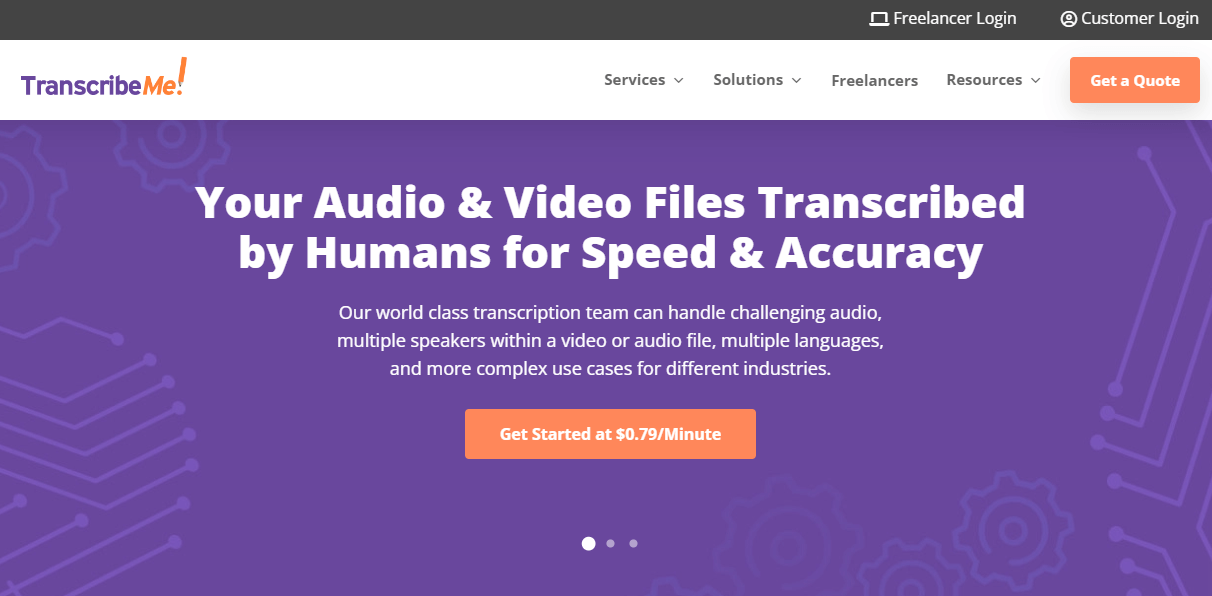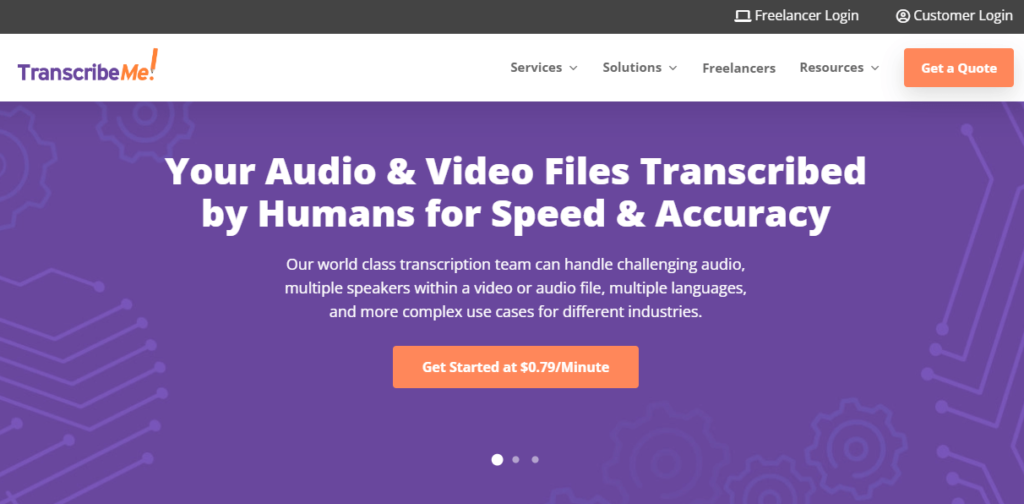 The second most popular site to work is TranscribeMe. This website provides high-quality transcription services to businesses and well-known enterprises through the expert freelancers registered with them.
There are only four requirements for registration with TranscribeMe
You must complete 18 years,
Have a stable internet and computer system with you,
A valid PayPal account, and
Must pass the entrance exam conducted by them when you get yourself registered.
A beginner can earn between $0.5 – $1.00 per transcription for 2 min to 4 minutes of audio/video on TranscribeMe. However, an Expert transcriptionist can get paid between $ 22 -$ 25 if they fulfill prerequisite criteria.
3. FocusForward
FocusForward is another platform that allows the transcriber to earn money online as a freelancer. They also have a wide range of services, and a beginner transcriber will get an opportunity to learn, earn and explore various projects to gain experience.
Follow these four simple steps to start your journey with a focus forward –
Download the detailed program instructions & form.
Download the audio file for test submission.
Begin the transcription test.
Fill out the application form and upload your test for approval.
It usually takes 48 hours for them to review your application and the test result.
Get enrolled now here-
4. CrowdSurf
CrowdSurf is the best website for beginners, as they have a large community of freelancers with no prior experience in transcription. They also train individual freelancers to start work with them and gain proficiency.
After enrolment, you must pass the assessment test to get further projects and start work with CrowdSurf.
The payment depends on the level of proficiency and the amount of work completed. The payment varies with a minimum of $0.5 – $20 per minute of an audio clip. They also offer bonuses on successful completion of work.
5. GoTranscript
GoTranscript is a thriving web-based translation company that offers freelance transcription jobs for various languages. It provides a wide variety of work and an opportunity to select projects on your own.
You also need to pass the test to be eligible to work. The minimum accuracy of 95% must be fulfilled. Also, there is a minimum typing speed requirement of 50 WPM (words per minute).
Follow these four simple steps to start your journey with GoTranscript –
Register at GoTranscript.
Study the sample that is in the guidelines.
Take the test,
Click on Apply now and select your language.
The average payment rate is $0.60 per minute of audio/video. The average monthly earnings can be $150 for an expert transcriptor.
6. HappyScribe
HappyScribe offers their service for transcribers and subtitles. The company has a good record of clients.
If you are fluent in English, this can be an excellent choice for you. However, Having multiple language skills can be an added advantage to earning extra money from home.
What is the earning potential at HappyScribe?
The average payment rate is € 0.9 per minute of audio/video. The expert level transcribers can earn more than €2,000 per month.
7. Scribie
Scribie also offers an excellent opportunity to increase your earnings by transcribing audio/video files.
How to Register on Scribie?
Follow these four simple steps to start your journey with GoTranscript –
Sign up as Transcriber
Confirm your email address for verification.
Setup your PayPal account for payments disbursal
Take the test and submit the transcribed file.
What is the earning potential at Scribie?
The average payment rate is $0.50 to $2.00 per six minutes of audio/video. They generally pay on an audio-hour basis, so their pay range is $5 to $20 per audio hour. The average monthly earnings can be $150 for an expert transcriptor.
8. Allegis Transcription
You must explore this website if you are looking for full-time work-from-home transcript job opportunities. Allegis is the best suited for you if you want to provide transcription services in the insurance and legal sector.
This is one of the best websites for freelancer transcriptionists where you can decide your work and schedule.
This website is for expert transcribers, and if you have good hands-on transcription, you must explore good opportunities here for good working experience.
9. Ubiqus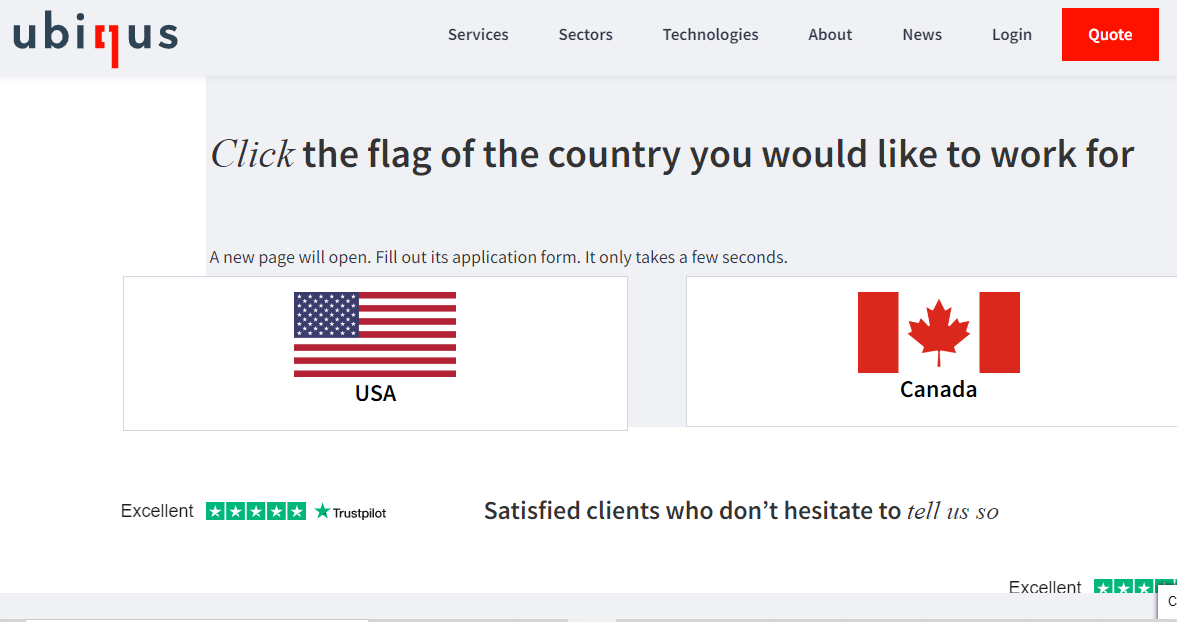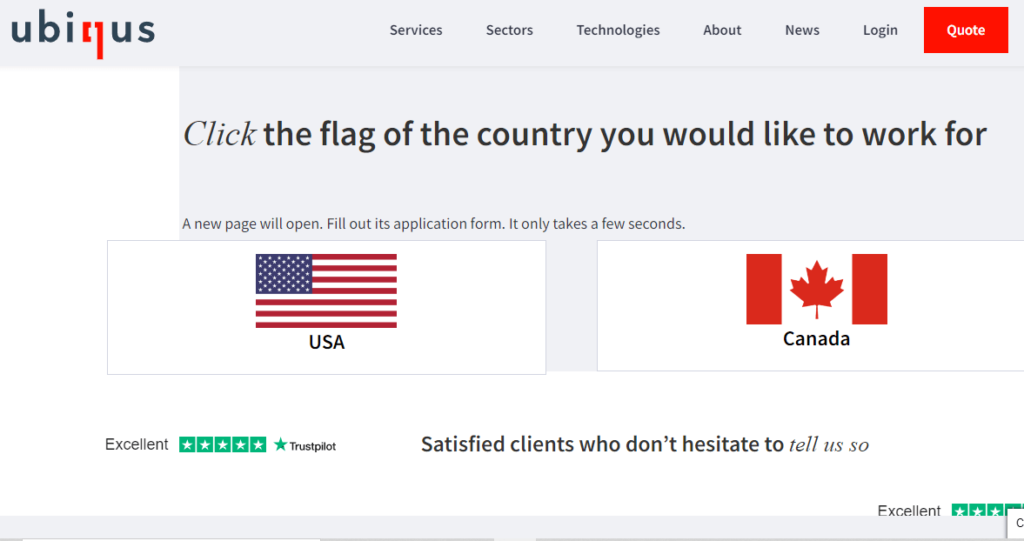 Ubiqus is an international language service company that offers a wide range of transcription services worldwide and is a leading company in this segment. The company provides translation, transcription, interpretation, etc. services in different sectors like the public sector, medical, finance, lifestyle, etc.
Here you can either work based in the USA or Canada.
According to the latest CSA research index, the website also holds ISO certification and is the 19th largest language service, provider.
10. DittoTranscripts
The company offers transcribing work in Academic, Business, Medical, Legal, Financial, and General areas. DittoTranscript has more focus on human touch than AI during transcription. As a result, It opens up more opportunities for freelancers.
At Ditto Transcripts, you can work either part-time or full-time. However, you must pass the test with a 95% score. The company issues payment on a fortnightly basis via PayPal, i.e., on the 1st and 15th of the month.
What is the earning potential of Ditto Transcript?
The earnings depend on many factors like the difficulty of the jobs, the time required for the work, etc. A typical transcription work will earn you $0.07 to $0.10 per audio minute. However, you can get paid more if the assignment needs more accuracy and speed.
Final Thoughts
Online transcription jobs require full-time effort, like a full-time job. You need to understand that if you want to master skills in this particular industry, initially, you have to work hard.
Once you improve your skills like- a good grasp of language, excellent typing speed, etc., there is a high probability that you will get more work and earn a regular income. However, you must keep in mind that online transcription is the best way to earn income as side hustle, but it can't replace full-time job.
If you want to learn more about the above websites and ways to earn as a transcriptionist, Please let me know in the comment.
Best of Luck
Disclaimer: The above ideas are for educational purposes only. We don't guarantee earnings from the above methods as it is based on my personal experience. Some links on this page may contain affiliate links and we may receive a commission if you click and purchase from the links. For more detail, please read our disclaimer.
Subscribe to Learn Smart Income Ideas
Subscribe to our weekly newsletter and never miss the latest TIPS on Smart Income Ideas to Make Money Online. No Spam, No promotion. You will get only one newsletter per week. Get your copy now