Do you know you can earn instant money from captcha entry work with zero investment and skill? In this post, I will share my best top 7 websites where you can work online and earn part-time cash from captcha entries.
What is Captcha?
Captcha is a security system for websites that protect from spammers or hackers and harmful bots. It generates tests in the form of images or letters which need to be submitted before taking any action on a particular website.
I am sure you must have encountered Captcha while doing net banking transactions or ticket booking portals or any secure systems. You always need to solve the captcha to login into your account. So basically it protects users from AI tools.
What you will learn in this post?
What is Captcha Entry Work?
How much can you earn through Captcha Entry work?
Pros and Cons of Captcha Entry Work.
List of top 7 genuine websites to find captcha entry work.
Checklist before starting the Captcha entry work.
How to start Captcha Entry Work?
What is Captcha entry work?
Captcha Entry work is an online work opportunity where you will get different tasks to fill in Captcha entries. The more Captcha entries you solve, the more income you generate.
The monetary reward will be credited after the successful submission of the solved Captcha. It's a kind of data entry work where you solve different allocated Captchas.
If you are a puzzle solver or are interested in solving simpler to hard kinds of Captcha, then this work will suit you.
How much can you earn through Captcha Entry work?
The earnings through Captcha Entry work are subjective as it depends on the payment terms of the work provider.
Generally, the earnings depend on the level of Captcha entries, whether they will be easy, medium, or complex.
Here are some general earning rates which we have observed from different Captcha solving service providers:
Auto Captcha solver
Normal Captchas – The rate will be $0.45 to $1.00 per 1000 captchas.
Javascript-based Captchas – The rate will be $0.75 to $2.99 per 1000 captchas.
Human Bypass Captcha
Normal Captchas – The rate will be $0.26 to $0.30 per 1000 captchas.
Javascript-based Captchas – The rate will be $0.60 to $1.00 per 1000 captchas.
If you are looking to earn big chunks of money and looking for work for captcha entry on a full-time basis, then this is not a recommended way of earning from our side.
Pros and Cons of Captcha Entry Work
Pros
No professional skill required.
Work Anytime and anywhere.
Instant payment. (Daily, weekly, monthly).
Can work part-time.
Cons
Lot of fake apps and websites.
Good for pocket expense only.
More work but less pay.
So, while the captcha entry work is easy to do, it might irritate you at some point. Here, the earnings are very slow, and after a long working hour, you will cover your pocket expense.
Since most of the companies are located outside India, you need to be careful before sharing your payment credentials. You can also earn money through their referral systems.
Therefore, if you want to earn money seriously for your living, you can explore other online methods to make money. In our previous blogs, we have also suggested some of the best online works you must consider for earning money.
Must read the article : Top 20 Money Making Ideas for Students without any investment.
List of top 7 places where you can do or find captcha entry work.
There are plenty of websites available on the internet. So it is difficult to differentiate between genuine or fake websites. Therefor we have personally tested the websites and curated a list of top 7 real website which actually pays money. So lets' start
1. Solvecaptcha.com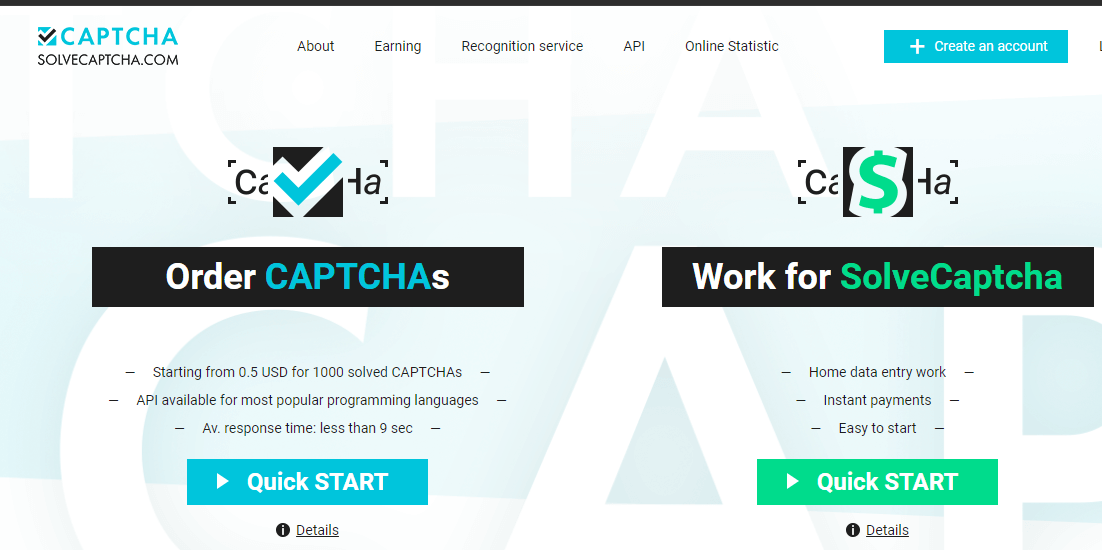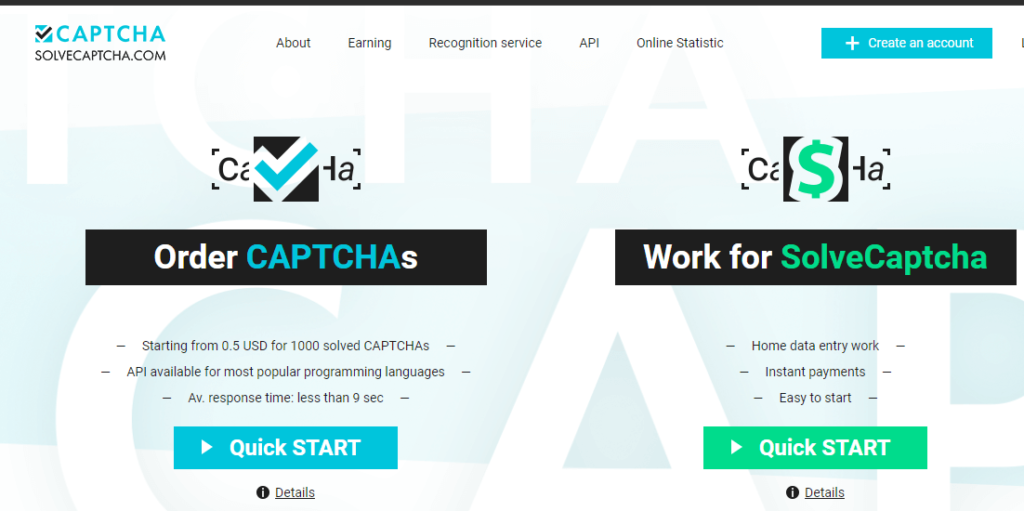 The first and most popular website that offers online work for captcha entry is "Solvecaptcha.com ." This website offers free registration and you will be able to get a job from day one. There are no payout fees, and multiple payment methods are there for withdrawal.
If you are looking to work from home part-time work, this website is perfect for you. The website response time is less than 9 seconds which is considered very good. It allows you to solve Captcha faster and increase your earnings more in less time.
The work model is very simple. There are clients who need to recognize a lot of Captchas in Real Time and the Captcha job providers have workers to do this in real time. So captcha job providers just work as an intermediate between Customer and Workers.
You get 0.17 $ for a normal Captcha to $1 for a re-Captcha.
2. 2Captcha.com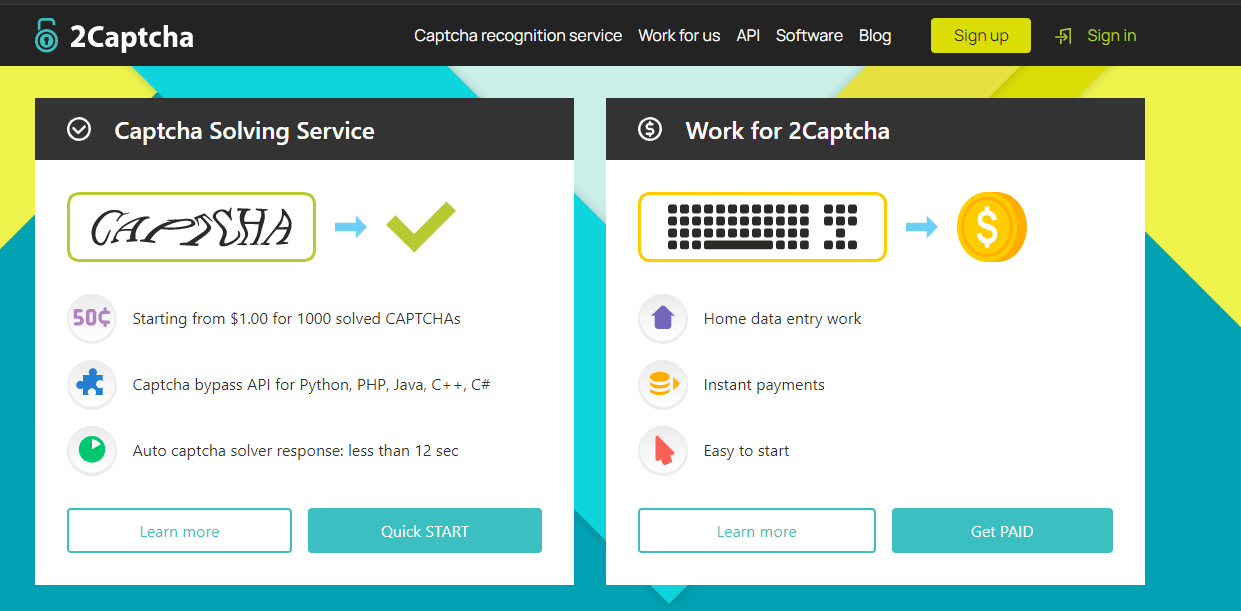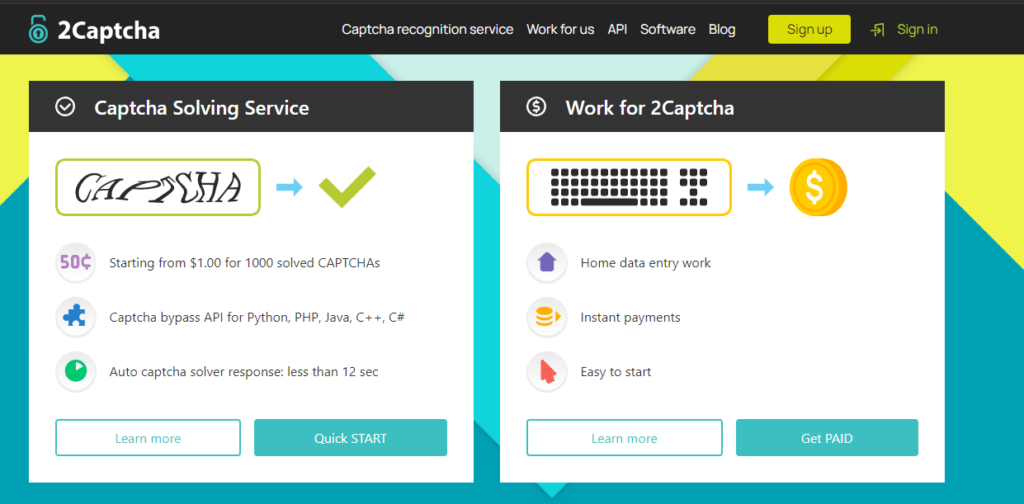 The second most popular website that provides an opportunity for Captcha typing job daily payment is "2Captcha.com". It has two types of captchas i.e. normal captchas and JS Captchas. For Normal Captcha, you get $1 per 1000 captchas and for JS captchas, you get $2.99 per 1000 captchas.
The website service load ranges from 10 seconds to 14 seconds which is good to increase your earnings. There is also a referral system from which you can earn more.
Your earning are saved in your account which you can withdraw in different supported wallets. Airtm, Bitcoin Cash, Payeer, PerfectMoney, WebMoney, etc are some of the supported wallets to withdraw your fund. There are also no payout fees but the minimum withdrawal limit start from 0.25$ to $10 depending on your wallets.
3. CaptchaTypers.com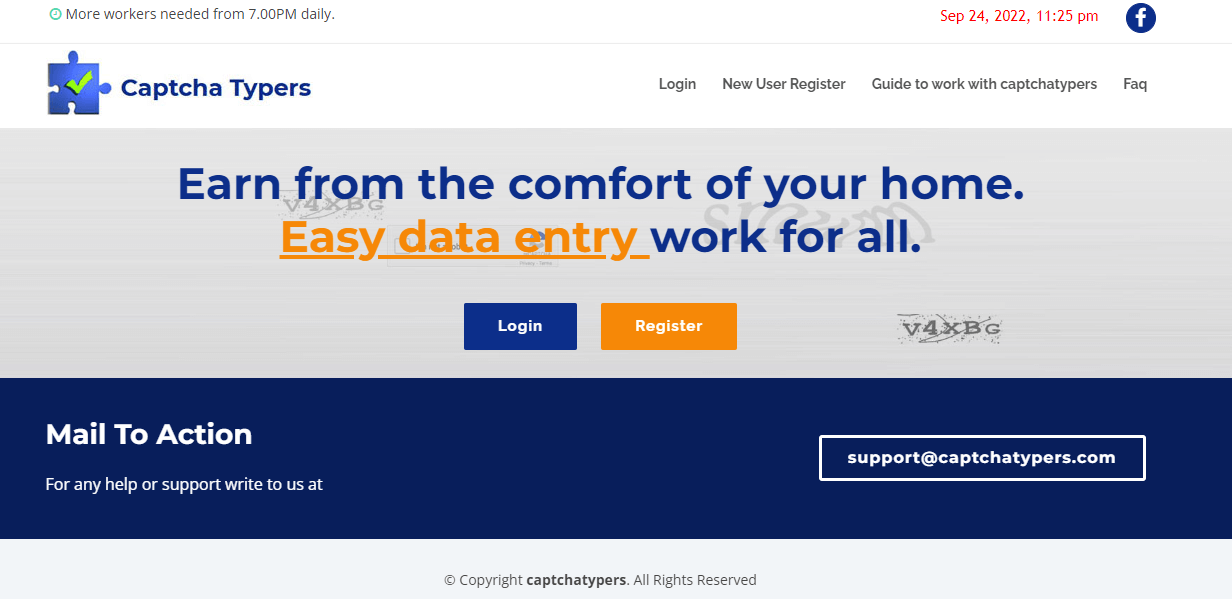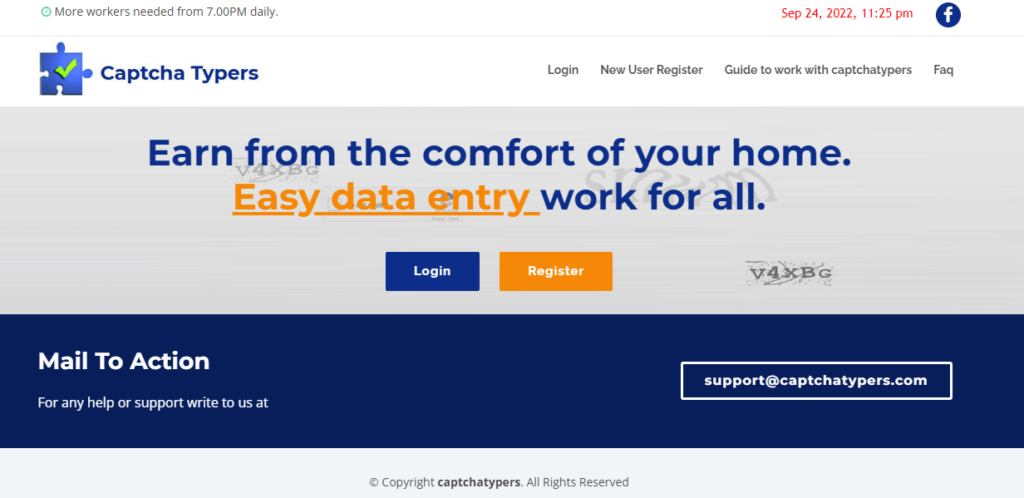 The third popular website is "CaptchaTypers.com ." This website offers and claims to be a provider of Easy Data Entry for all in the form of text captchas and re-captchas. You can also earn a 10% commission by referral system.
Here after registering with your email ID, You get an Admin ID. After logging into your Admin ID you have to create worker ID to work. With one Admin ID you can create 10 Workers ID.
Admin ID is basically for managing your payment details. So with this feature, you can create your team and work.
You can get the payment through Perfect money, Webmoney, Bitcoin, Payza, Neteller, etc. The minimum withdrawal limit depends on your payment receipt methods which varies from 1$ to 5$.
4. Kolotibablo.com
The fourth popular website is "Kolotibablo". This website has been providing work services since 2007, which shows the stability and consistency of delivering captcha typing work opportunities.
Kolotibablo has very good tracking system from which you can track your real time earning and entries. you you can track your earnings Many real inspiring stories are highlighted on their website, which also shows that Kolotibablo is one of the good websites that offer online work for captcha entry.
5. MegaTypers.com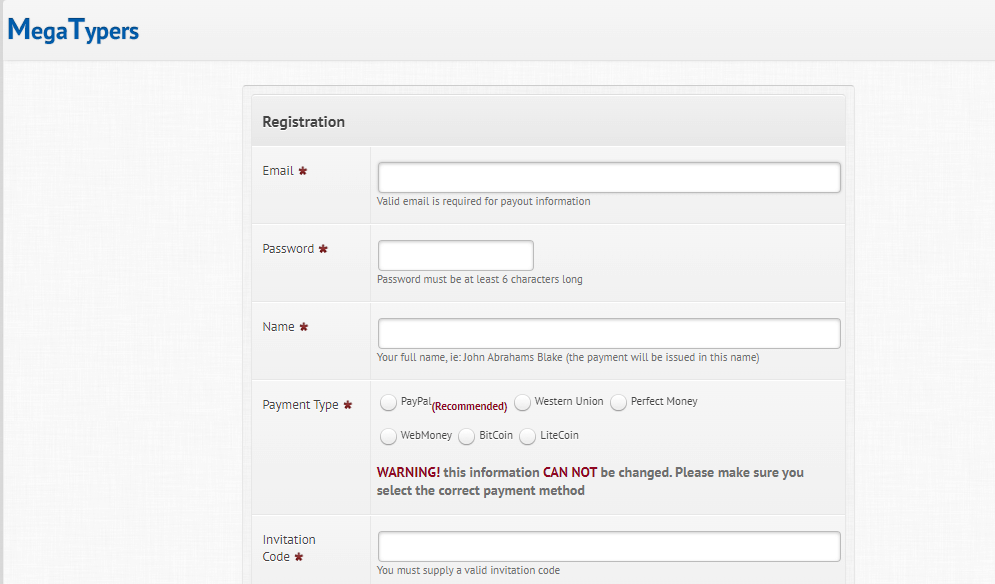 The fifth popular website is "MegaTypers.com." This website provides flexible working timing to every person with strict pre-requisite requirements. They also offered an opportunity to work fast and get a good amount of money.
With MegaTypers, you can earn more than $100 per month. The more typing speed you have, the more money your can earn.
As per MegaTypers, you get paid as $0.45 – $1.5 TyperCredits for each 1000 word images typed. You can change these TypersCredit into dollars and receive your payment. They also have different payment methods for payment withdrawals.
6. ProTypers.com
The sixth popular website is "ProTypers.com". This website looks like and is very similar to MegaTypers.com. It is ideal for those who want to work from home. Here you earn TyperCredits for solving or typing captcha.
Similar to Mega Typer, You get TypersCredit instead of dollar. It also has TyperSolver Desktop app to work faster as your earning depend on number of captcha you solve faster and accurate. If you are slow in solving the captcha then you may be kicked out.
ProTypers also runs contests for most Accurate Typers and Most Fastest Typers. Most Accurate Typers get 3X more credits and Fastest Typers get 4X more point than normal workers.
7. Captcha2cash.com
The seventh popular website is "Captcha2cash.com". This website is an affiliate partner website of MegaTypers.com. So, if you visit MegaTypers or Captcha2cash, you are approaching the same person for captcha Typing work.
If you have any confusion about MegaTypers', you can visit the website. You can too earn through affiliate commission whenever somebody joins through your link.
Checklist before starting the Captcha work?
Must have a basic Laptop or smartphone with internet connectivity.
Research about the websites to verify its genuineness.
Never pay a registration fee.
Create new e-mail ID for this purpose only.
Keep the expectation low – More work but very less pay.
Create your Account in different wallets like- Airtm, Bitcoin Cash, Payeer, PerfectMoney, WebMoney, PayPal, etc to receive your payment.
Read about Terms and Conditions of the service providers.
How to start Captcha Entry Work?
Well, the process to start Captcha Entry work is not very complex. Following are the primary technical requirements to start work for captcha entry.
Find out the best website for yourself. You can refer our curated list of my best top 7 captcha entry work providers.
Register your account.
Check the payment system before starting the work.
Start solving captcha.
Final Verdict
When it comes to making money via online sources, most of us searches for easy money. While the captcha typing is easy to do but certainly its not easy money. Because even with working of 8 hours per day you can hardly make $5 per day.
So be practical before starting the work. Captcha solving job is good for those who has nothing to done but want to make some extra part-time income. However, there is more chance that you will not find genuine work provider.
That is why we have curated the list where the likelihood of getting trapped or scammed is very minimal. However, its always advisable that you do your due diligence before finalizing the planform to work as the terms and conditions keeps changing day by day.
Best of Luck
Disclaimer: The above ideas are for educational purposes only. We don't guarantee earnings from the above methods as it is based on my personal experience. Some links on this page may contain affiliate links and we may receive a commission if you click and purchase from the links. Further, for some of the apps, the age limit is 14+ or 18+ depends on the location, so please abide by the law of land. For more detail please read our disclaimer.
Subscribe to Learn Smart Income Ideas
Subscribe to our weekly newsletter and never miss the latest TIPS on Smart Income Ideas to Make Money Online. No Spam, No promotion. You will get only one newsletter per week. Get your copy now