As per a study conducted by Deloitte, Smartphone users would reach 1 billion by 2026. With such a huge smartphone users in India, money making from mobile apps has gained popularity over the years.
After Covid 19, everyone wants to earn extra money through side hustle from home. People are looking to boost their earnings by finding alternative streams of revenue. But this is easier said than done.
Most of the side-hustles require plenty of investment or research, sometimes both! But what if there are simple ways to earn money from the comforts of your home with just some money-making apps?
This is where the problem starts. There are hundreds of mobile apps which claim to provide online income. But most of them are fake. So, how to choose the best money earning apps to earn income from home?
Not all of them are the same. Depending on your interest and the time, you can pick the app that suits you the most. So let's take a look at some criteria to choose the best money-earning apps without investment.
Checklist before choosing the right apps:
Whether the apps are genuine and pay the real money?
What is the revenue model of the mobile apps?
Whether you are looking for a part-time income or full-time income?
Whether you have expertise to work on the apps?
Latest Trends to Make Money from Apps.
Before Covid-19, most of us had a belief that making money through apps is a myth. We had very limited real life experience where somebody has actually been making money. There is always an element of doubt.
But after Covid-19 and especially during lock down, most of us tried these money making apps while working from home. This is the reason the popularity of money earning apps in India skyrocketed.
Today most people believe that it is possible to earn money through mobile apps. So the mindset of people has changed a lot.
How does money earning apps in India work?
Working model of money earning apps differs from one another. There are various business models. I have discussed some of the important models below.
Aggregator Model
Some mobile apps work on referral basis where these apps work as an aggregator of various services.
When you refer these services to a customer, you get paid for each successful referrer. These kinds of mobile apps have unlimited earning potential.
Reseller Model
The 2nd type of cash earning apps are a reseller app. Here, You will get a collection of different products like- fashion products, electronics, kitchen wares, etc.
You just need to share and sell these products through your channel and earn a commission. The best part is that you don't need a physical shop or manpower to do all these things. You can earn a good amount of money through these apps.
Micro Tasks Model
The 3rd types of mobile apps are those apps where you work and do micro tasks. Survey apps, coupon sites, gaming apps, reward earning apps, etc come under this category.
The earning from these apps directly depends on how much time you work or how many tasks you perform.
The only drawback is that these earning apps have limited earring potential. So, these are good for a part-time income without any investment.
How to start working for the money making mobile Apps
Before you start working, you need to register in the mobiles apps. Signing up for a money earning app is very easy. Most of the apps have a very user friendly interface where you can register without any special assistance.
You must keep the following information ready before signing up:
Your personal email ID.
Your personal mobile number for sms verification.
PAN Card details.
Aadhar Card details
Bank details 
Payment details like- UPI or Bank Account or Paypal.
The requirement may vary for different apps. You don't require all these information at the time of signing up. However, when you earn from the apps, you require these details for getting the payment. That is the reason you should always go for trusted money earning apps.
How do you earn from the mobile earning apps in India?
There are multiple ways to earn money through apps. Some of the popular means to make money through mobile apps are:
Refer & Earn – This is almost similar to affiliate marketing model. Here you will find many brands to promote. You earn a commission after every successful referral.
Perform Microtask – Here instead of working full time, you just perform simple micro tasks and earn income.
Online surveys.- You perform different surveys and in turn, get rewarded with cash.
Play and Win – Here you play a game and earn money or rewards. Sometimes it can be risky as it requires you to play with real money.
So, You have to decide which model of income streams suits you most. Once you decide the model, you can choose the apps.
Pros and Cons of Money making apps
Most of us think that money earning apps are a way to earn easy money without any investment. It is true that you don't need to be an expert or highly qualified to make income from these money making apps.
But, there is no easy money. You need to make a consistent effort to earn regular income.
Just like everything, money making apps also have its own advantages and disadvantages. So let's discuss Pros and Cons of Money Earning Apps for a well informed decision.
Pros of Money earning apps.
You don't need to be highly qualified to start earning.
You can work as per comfort of your home, there is no obligation to work daily.
Very low or no investment. You don't need any hi-fi gadget. Just a smartphone is enough to kick start your journey.
There is no age bar except some fantasy sport where you need to be 18+ age or in some case 14+ age.
Cons of Money earning apps.
Very hard to find genuine money earning apps.
Very hard to earn a decent amount of money to make a living.
Sometimes privacy issues.
Since we have discussed about different ways of money making through mobiles apps, pros and cons of the apps, etc, now we will present a well curated list of top 22 apps to earn money with very low or no investment.
What Are the Best 22 Money Earning Apps In India? (2022)
While there are hundreds of money making apps in India, I have listed out the best 22 genuine cash earning apps which require very less or no investment. So lets' start.
1. Banksathi
Banksathi is my favorite money earning app in India. If you are a financial influencer and need an attractive financial offers to promote, this is an excellent app for you.
Generally you need to register with each and every businesses to promote their products which is a cumbersome procedure for everyone.
But through Banksathi you just need to register once. After registering, you can promote a lot of financial products like- credit card offers, demat account opening offers, loan offers, etc.
The best way to promote the products listed at Banksathi is through your digital platform. Be it a blog or a social media, you can easily refer the products to your followers and earn a good income.
Earning Potential:
There is no limit to earn through Banksathi as it depends on commissions. The more you sell the offers, the more money you can earn. Additionally, you can also earn an extra 10% of commissions by referring the apps to your family and friends for lifetime.
If you can give 1-2 hours on a daily basis you can easily earn regular income from Rs.20000 to Rs.30000 per month. Since this works on referral modal, initially your income may be less but with time it will start growing.
You can easily add your bank account or PayTM Account with the Bank Sathi app and receive the commission right into your account. This is why Banksathi is one of my favorite money making app in India.
2. Shopsy
Shopsy is a great app for those who wanted to start their online business from scratch. The app is great money earning apps for businesses with zero offline presence.
Shopsy is one of the by-products of Flipkart. It is a kind of reseller app where you earn through reselling the products from flipkart. You don't need a physical or digital store. You just need to shortlist the products and sell through your link.
So Shopsy is a great app for those who want to start a business with zero investment. Best part is that you get the benefit of the Flipkart Brand.
Earning Potential:
Since the app is based on the reseller model, there is no limit to monthly earnings. You can easily make Rs.20000 to Rs.50000 or more with consistent work.
3. GroMo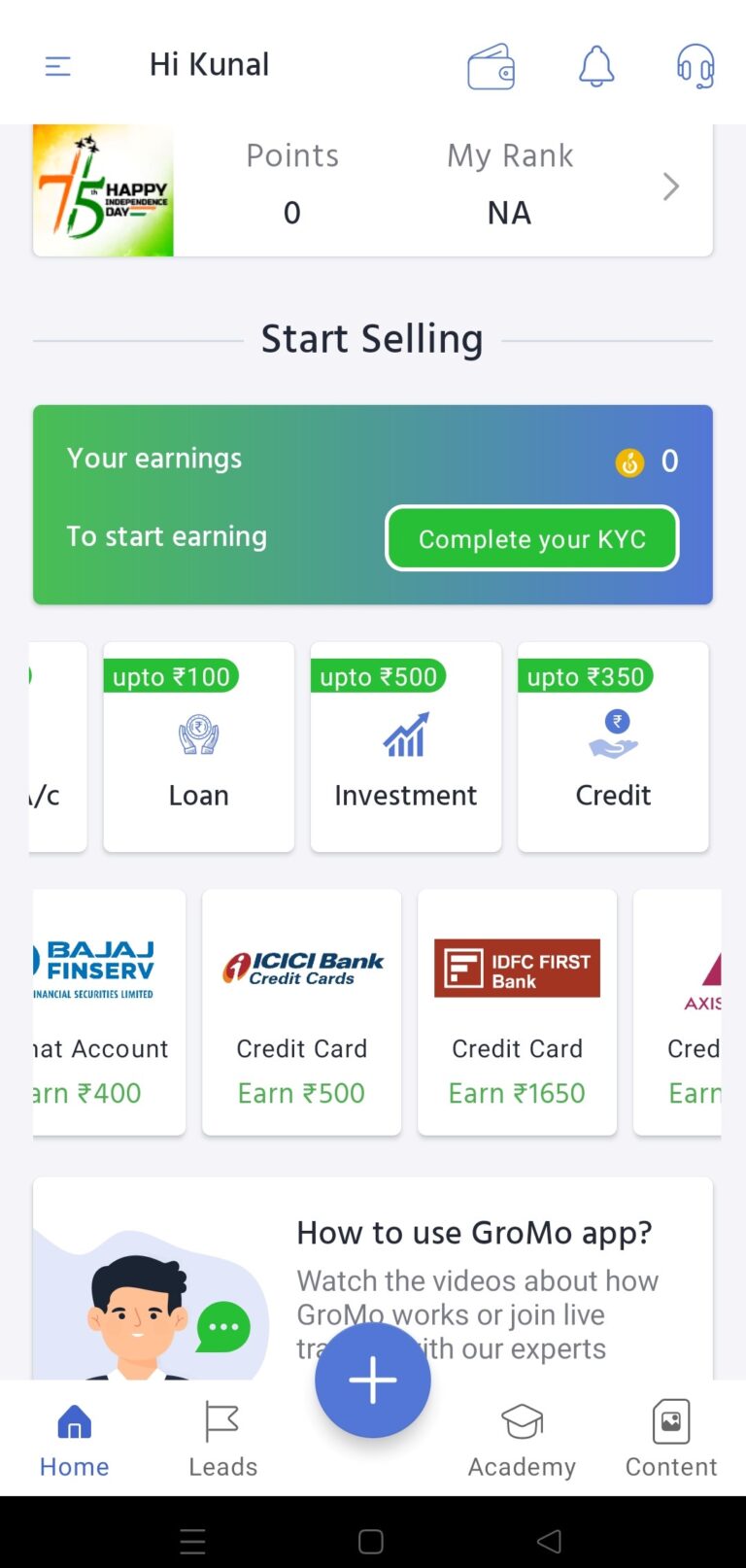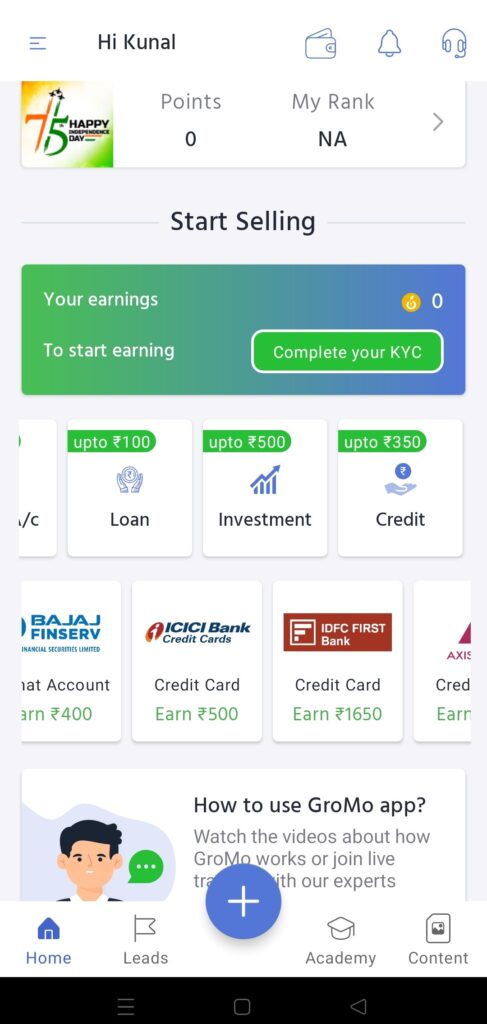 GroMo is one of the best app for banking and finance professionals, agents and newcomers who want to pitch popular financial products.
With the GroMo dashboard, you can not only manage your lead but also learn about financial products with free courses. This app is a one stop solution for promoting every kind of financial product.
Be it bank account opening, Demat Account Opening, Credit card selling, Lead generation for loans, insurance, etc, you can do everything at one place. There are more than 50 products at one place to promote.
You can also share the products to your lead through Whatsapp, e-mail, etc. The best part is that when you register for the app, you get a personalized website URL which you can share with anyone. You can also create your personal visiting card through the app.
Earning Potential:
While there is no limit to your earning potential at Gromo, You can easily earn Rs.20000 per month as passive income just by giving 2 hours a day. Apart from that you can also refer to the app and earn Rs.100 after 1st customer sales of your referral as additional income.
4. Wonk App
Feel like you are not able to translate your educational qualifications into money? Well, Wonk gives you the opportunity to do exactly this.
WONK is one of the largest "online tutor" apps in the world. The app allows anyone to apply to be a tutor. A team of experts would test your experience and knowledge before qualifying you.
Once certified, you will join the list of tutors available to the parents on WONK they could choose for their kids.
On WONK, you can pick any subject of your expertise and teach kids between KG to 12th. You get the flexibility of deciding your work hours, with tutors devoting 4-8 hours on average per day.
Earning Potential:
Depending on your experience and ratings, you could earn anywhere between Rs. 300-1000 per hour. On average, WONK tutors earn Rs. 40,000 per day. You could always teach more hours and multiple subjects to earn even more!
5. UserFeel – Money Making Apps
If you are slightly tech-savvy, UserFeel is a great and meaningful side-hustle.
UserFeel is a remote usability testing app that pays users to test out new features of websites before they are deployed to a wider audience. Think of it as a Beta Program of apps where you actually get paid to participate.
To begin with, you simply need to apply to be a tester. You would need to give a small test to prove that you actually understand the process and have the device to perform the same.
Once approved, you simply have to wait for new gigs to come up. Each usability test lasts between 10-20 minutes and can earn you $10, which is paid through PayPal.
UserFeel supports desktops, mobiles, and tablets – the more you have, the more you can earn. As your user rating increases, so would your earnings.
6. SHEROES App
It is not easy to make a career for a woman. This is why SHEROES is such an interesting and praiseworthy initiative to allow women to earn money from home. SHEROES is a female-only platform that allows women to be self-reliant in various ways.
For instance, SHOPonSHEROES is an online marketplace that allows women to open their online shops with zero investment.
SHECO Partner Program trains and allows women to be investors, while the MARS Partner Program trains them to be skill-ready for jobs outside their platform. The best part is that SHEROES prides itself on being completely safe for women.
SHEROES also offers holistic services like mental health counseling and legal help for domestic violence etc. For women, this is certainly a perfect mobile app to earn money from home.
7. Roz Dhan App : Do task and earn money
One of the most popular real money earning apps in India, Roz Dhan definitely deserves its popularity.
Like most apps of its type, Roz Dhan offers you money for completing tasks. However, it is the sheer amount and diversity of tasks that make it such a wonderful money-earning app.
Users get a flat Rs.50 bonus just for signing up on the app. After that, they can earn money by performing a variety of tasks, like installing apps, playing games, reading news, completing surveys, etc.
You also earn money by referring friends. All money is credited into the Roz Dhan wallet first, but you can link your Paytm wallet and withdraw money anytime. If you are active, you can earn hundreds of bucks each day on the app – all without any investment from your end.
8. Dream 11 App
It is hard to make a list of money-making apps in India and skip one of the oldest names – Dream 11. Dream 11 is a fantasy sports app that allows users to earn huge bucks with nothing but their luck and knowledge of the game.
Once users sign up on the app, they need to choose their upcoming game and create their own squad of players. All users pick their players depending on their roles and points.
The performance of their players in the real game earns them points accordingly. Users can participate in rounds with other players – the user who earned the most points in the round wins.
What makes Dream 11 so enticing is that the higher you bet, the more you could win. It is not a game of pure luck either, as your knowledge of the sport and players also play a big role. You can easily transfer your winnings to your bank account.
Persons below the age of 18 years are not allowed to participate in the game. So You need to disclose your age to the platform.
9. Meesho App
Meesho is an amazing app for shopping lovers, but it can also be a great option for people looking for a side-hustle. All you need to do is re-sell products and earn your profit margins from the comforts of your home.
To start with, you need to buy products from manufacturers at wholesale prices. After that, you will have to promote these products in your circle – be it on social media, among friends, or in advertising in general.
Depending on the margin set on the final price, you make profits when the product gets sold. What Meesho does is free the manufacturers from the hassle of marketing while allowing you to become a retailer from your home.
Earning Potential:
On average, re-sellers on Meesho earn up to Rs. 25,000 per month, but top resellers easily earn Rs. 2 lakh per month and more.
10. Mobile Premier League App
Like Dream11, Mobile Premier League (MPL) is another platform that lets you earn money through your sports knowledge.
Like all fantasy sports apps, MPL allows users to form teams of their favorite players based on upcoming matches, take part in tournaments with real stakes, and win money.
Players could participate in tournaments, 1v1 battles, or simply make teams for fun. MPL offers up to Rs. 1500 on referral bonuses, so users don't even need to put in any investment before participating in tournaments.
Compared to Dream11, MPL also has a significant variety of sports like cricket, football, poker, car racing, etc. Only the user who is at least 18 year of age can participate in the game.
11. EarnKaro App
If you are a shopaholic and keep a hawk-eye on the best deals on the internet, EarnKaro can really be a great way to earn some extra cash.
EarnKaro allows you to go through e-commerce websites listed on the app and look for the most attractive deals. Then, you can turn the links to those deals into affiliate links and share them with friends or on social media.
Every purchase made via your link earns you a profit. In case you come across a really amazing deal that grabs everyone's eyeballs, you can really earn the big bucks. The money can be directly transferred to your bank account.
How do Money Earning Apps Make Profits?
Most of the money earning apps work on aggregator model or agent model. After every successful conversion of leads, the platform get the commission. After keeping parts of the commission, the apps distribute the maximum share with referrer.
Other Important Mobile App to make money online from home: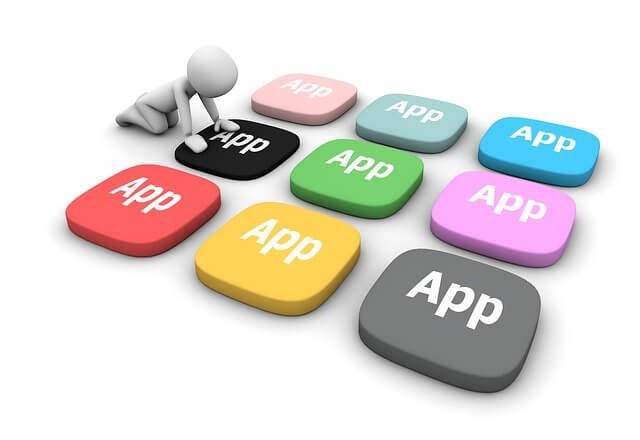 1. TaskBucks– Complete task and earn coins.
2. Google Opinion Rewards- Take survey and earn rewards
3. Swagbucks – Take Survey and earn gift cards
4. SquadRun – Work from home for brands and earn income.
5. TechBandhu – Earn extra income from home.
6. Dosh App – Get cashback when you shop.
7. HealthyWage App – Win Weight loss challenge and win cash.
8. My11Circle – Play fantasy cricket and earn money.
9. EarnEasy: Earn money for downloading app and referral
10. Shop101: Resell and earn money.
11. U Speak We Pay App- Speak and earn for regional language.
Conclusion
Getting some extra cash is always a great idea. It's even better when you can do it from the comforts of your home, with flexibility and without any investment. The money-making apps shared above let you do exactly this. Let the hustle begin!
Frequently Asked Questions (FAQ):
Which app is best for earning money?
Every app has its own advantages and disadvantages. So it all depends on the platform which suits you most. But as per my experience, GroMo, Meesho & Shopy are some of the best app to make money from mobile without any investment.
How to make money online in India for students?
Students have very less time to work as their primary focus is study. So the best way to make money online for students is to work part time through mobile app without hampering the study. Students can earn part-time income through micro tasks apps like- Swagbucks, Banksathi, Taskbucks, etc.
How to earn dollars in india?
Best way to earn dollars is by doing micro tasks or taking part in surveys. Freelancing is also one of the best option to make money online and earn in dollars. You can also promote affiliate products.
Which App Gives Real Money?
There are a lot of apps that pays you real money. Some of the mobile app through which you can earn money with no investment are Banksathi, GroMo, Meesho, etc.
How to make money online for free?
You can work online through mobile app to earn money without investment. The only investment is your smartphone. If you have smartphone you can work on the above listed apps and earn real money from home.
Which is the best app to earn money at home? 
All the mobile app listed here are best to earn income from home. But if you want to make a living out of it, Shopsy, Meesho, GroMo and Banksathi are my favourite app to make money from home without paying anything.
Which app is best for earning money by playing games in India? 
If you are looking for a genuine android apps to earn money by playing games, MPL and Dream 11 are the best apps. But be careful because sometimes it could be risky as it may involve real money. These apps are only for the people with 18+ age.
How do apps make money in India?
There are many income models of mobile apps. For example, Subscription model, aggregator of products, completing micro tasks, etc.
What is the best app to earn money in India for students?
GroMo, Banksathi, Healthy wage, Earneasy, etc are the real money earning apps in India to make money from smartphone from home for Students.
What are Top Online Fantasy Cricket League App To Earn Cash Daily ?
Mobile Premier League (MPL), Dream 11, My11Circle, etc. are some of the top Fantasy Cricket league app and earn cash daily. You can also play other fantasy sports through these apps.
What is the best cash-earning app in India? 
GroMo, Banksathi, Shopsy, etc. are the genuine instant cash earning apps in India to make money from smartphone from home.
How to earn money at home for housewife?
While any of the apps could be used by housewife to earn part time in free time, Meesho, Shopsy and SHEROS are the best to start making regular income for a housewife.
Disclaimer: The above ideas are for educational purposes only. We don't guarantee earnings from the above methods as it is based on my personal experience. Some links on this page may contain affiliate links and we may receive a commission if you click and purchase from the links. Further, for some of the apps, the age limit is 14+ or 18+ depends on the location, so please abide by the law of land. For more detail please read our disclaimer.
Subscribe to Learn Smart Income Ideas
Subscribe to our weekly newsletter and never miss the latest TIPS on Smart Income Ideas to Make Money Online. No Spam, No promotion. You will get only one newsletter per week. Get your copy now