Rediff Money is one of the leading financial websites. It has some of the advanced tools to do extensive stock market research which helps to manage your investment effectively.
Rediff Money is essential for any investor to have day-to-day updated information about the economy and companies before investment.
And, If there is an excellent market research tool is available for free, nobody can stop him from being a successful investor or trader. Rediff Money is that Tool.
After reading the article, you will know about:
What is Rediff Money?
Why should every share market investor use Rediff Money?.
How to Register for your free account at Rediff Money?
What are the valuable features of Rediff Money?
What are the exclusive supercritical tools of Rediff Money?
So let's start
What is Rediff Moneywiz?
Rediff Moneywiz is the tool that can help every investor in market research before making any investment decision. It is one of the sister websites of Rediff.com. Rediff.com is an Indian news, information, entertainment, and shopping web portal founded in 1996.
It is one of the most popular financial websites in the World and gets around 3.2 million visits per month.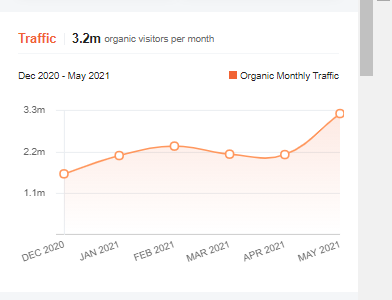 Why should every share market investor use Rediff Moneywiz?.
Rediff Money or Rediff Moneywiz is one of India's leading financial websites. At Rediff Money, you get updated and latest information about the Indian stock market and International Stock Markets.
You also get share Price information, Mutual funds of India, Forex market information, Corporate or latest financial news, etc., without any extra cost.
Apart from all the information relating to the Market and economy, Rediff Money also has some of the critical tools to manage your stock market portfolio effectively in one place.
Some of these super tools are My Watchlist, My Portfolio, Investment Tool, Real-Time Quote, Currency Converters, etc.
The most important thing is that all these tools are absolutely free to use. You need a free sign-up to Rediff Money for using all these super tools. However, you can use some of the tools like Real-Time Quote, Currency Converter, etc., even without sign up.
How to Register for your free account at Rediff Money?
Registering for a free Rediff Money account is very easy and is similar to creating any other email Account like- Gmail, Yahoo, etc. Here, I have explained the step-by-step method to register for a free account.
Step I: Go to the Rediff Moneywiz Website.
Step II: Click on the sign-up button at the top right corner of the website. After clicking on the sign-up, a new sign up form will pop up as below:
Step III: After filling up the necessary information, click on the Submit Button, and your free account would be created.
Step: IV Once your account is created, you can sign in to your account by clicking on the sign-in button at the top right corner of the website.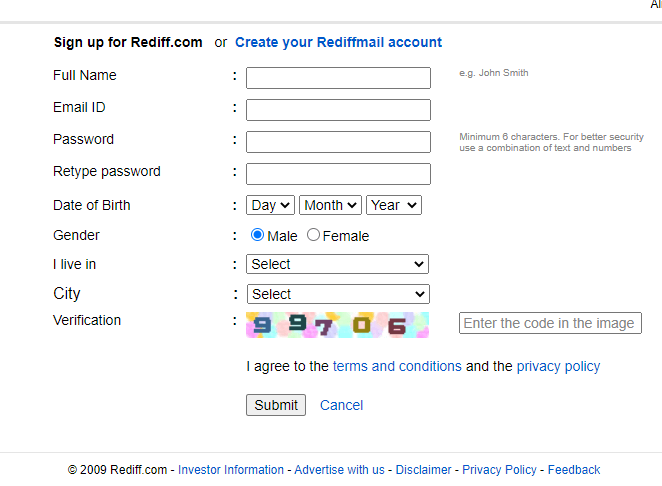 So now you are ready to go and use the unique features of Rediff Money.
What are the valuable features and tools of Rediff Moneywiz?
There is a wide range of features that are going to be very useful for anyone who wants to learn about the share market. I will share some of the critical features of Rediff Money:
1. REAL-TIME QUOTE:
This is a handy feature of Rediff Money. By using this tool, you can find out the real-time quote of any stocks as well as mutual funds.
For example, let us find out the Real-time Quote of one Stock, "Asian Paint."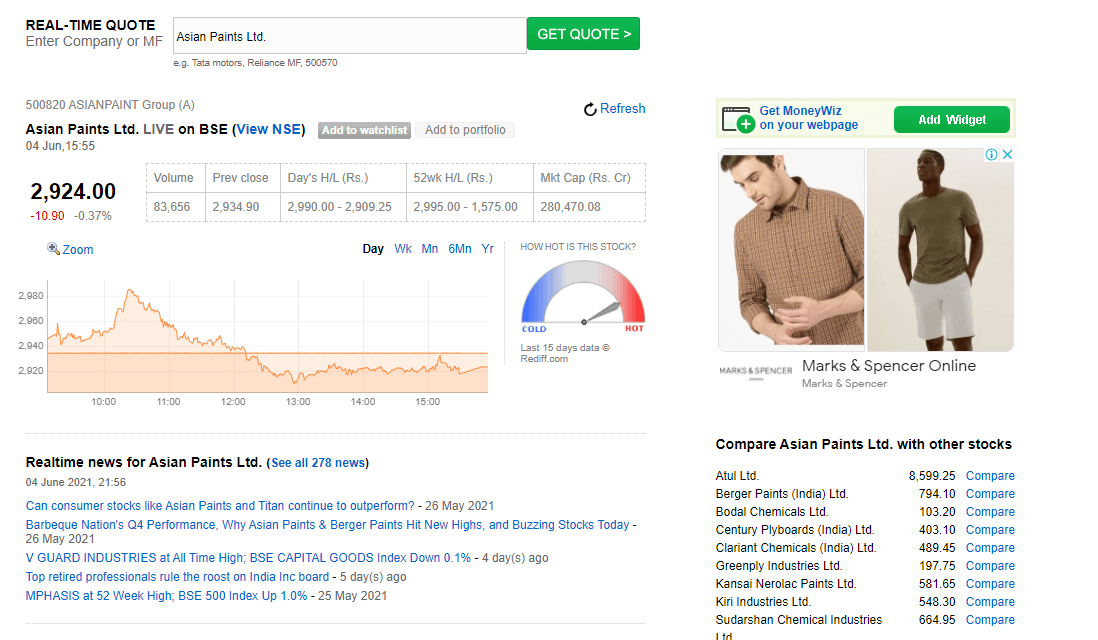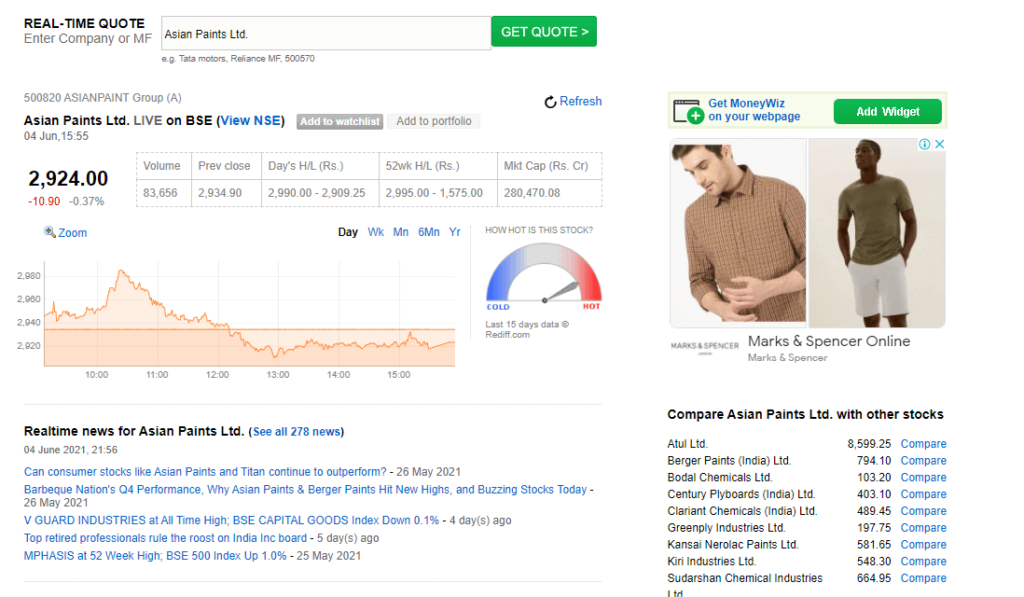 It provides in-depth information about stocks like- Volume of trade, Previous Close price, Day's High/Lows, 52 Week High, PE Ratios, etc. It also gives information about the stock of companies relating to the same industry for easy comparison.
It provides real-time latest news about a particular company. All this information is going to help in our Investment significantly.
Apart from real-time stock quotes, you can also find out Real-time Quotes of a mutual fund. Let us take an example of "Axis Long Term Equity Fund Regular."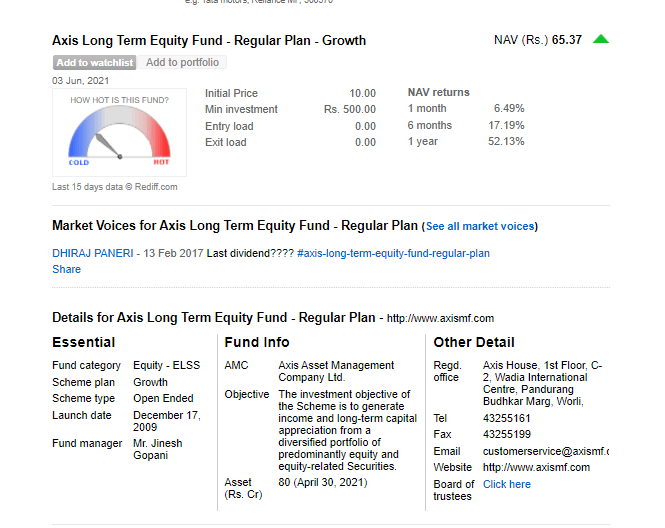 In this way, we can get detailed information like- Fund Catagory, Fund Launch Date, Fund Manager, Asset Under Management, Historical NAV Returns, etc., about any Mutual fund.
2. Rediff Money My Portfolio
Most of us, while building our portfolio of investments, do a lot of Market research. The Research includes- which stocks to select, which sector to invest or long-term investment or short-term investment, etc. But, once our portfolio is ready, we don't pay much attention. 
My Portfolio section in Rediff Money will help you to manage your portfolio and track your return on investment in one place. You can also name your portfolio as per your goal of Investment. 

You can add not only your stocks, but you can also add Mutual funds to your portfolio and track the return. This is my second best feature of Rediff Money.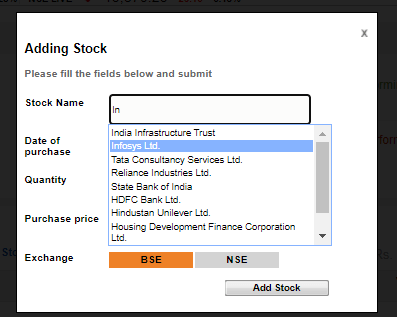 Here you have to add your stocks manually to your portfolio.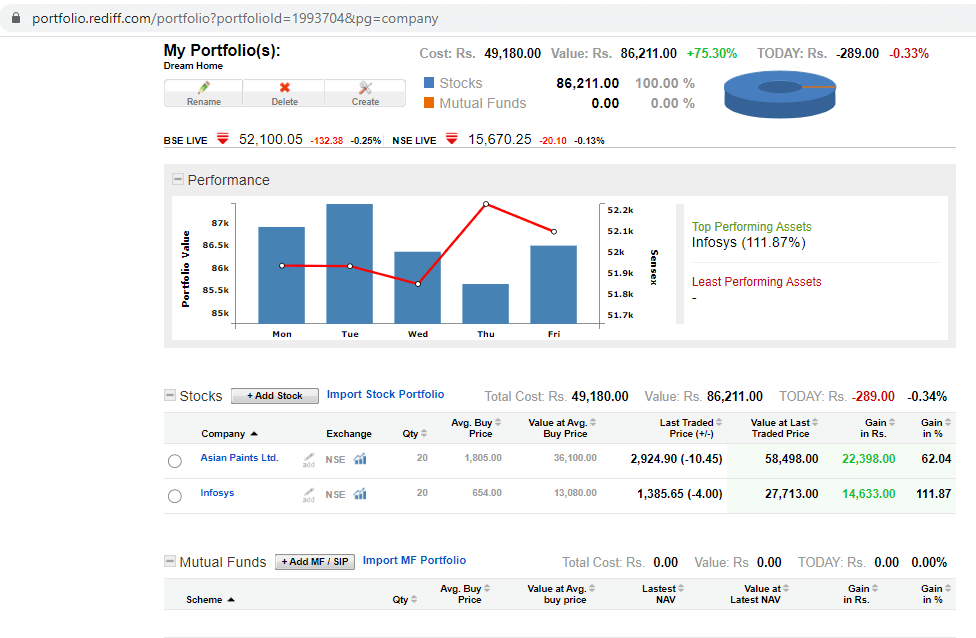 So, you can manage your portfolio very effectively and efficiently. You can further analyze your portfolio through the graphical representation. This makes the life of an investor very easy.
3. Import Portfolio
This is one of my favorite features of Rediff Money. While using this feature, managing your already existing portfolio on other platforms is very easy.
You can directly import existing stock market portfolios in the form of CSV, XLS, and XLSX and create a personalized portfolio. In my opinion, excel (.xlsx) format is best for importing your portfolio.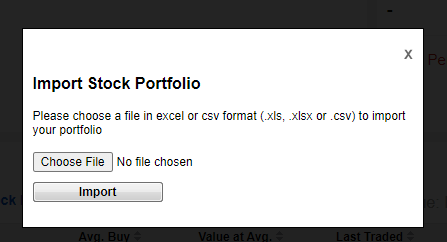 Here you don't need to manually add your stock or mutual funds to your portfolio one by one. So it makes investors' lives very easy and time-saving.
Things to check for successful importing your portfolio to RediffMoney's Portfolio:
Before importing your portfolio to RediffMoney, you should be careful about the name of the Columns Header in your excel file. You can manually rename the column header as given below.
Symbol: 'Stock Symbol' or 'Symbol'
Company Name: 'Company Name' or 'Company' or 'Stock Name' or 'Name'
Quantity: 'Qty' or 'Quantity' or 'Shares'
Average Buy Price:'Average Cost Price' or 'Avg Buy Price'
Date of purchase:'Transaction Date' or 'Date', 'Date of purchase'
Total Cost: 'Cost basis' or 'Total Cost' or 'Cash value'
But it is not compulsory to have all given headers in your excel file. However, as per my experience, you must have at least 'Symbol', 'Quantity' and 'Average Cost Price' as headers to successfully import your portfolio.
So you should rename the concerned coulumn as per the above criteria.
4. Investment Tool
I have mentioned my second favourite feature of Rediff Money. Investment Tool is my all-time favorite tool out of all the tools and features. By using this tool, we can plan our Investment very smartly.
This tool not only gives an idea about the expected return on Investment of the stocks but also of mutual funds. The best part of the Investment Tool is that It gives the return profile of any stock with respect to NSE, BSE, GOLD, FD, and Mutual Fund for 1 week to 1 year.
You can see I have calculated the past one-year return profile of "Asian Paint" for an investment of Rs. 100000/- by using the tool. So in this way, we can decide which investment option is expected to give a better return in the future if the trend continues.
Beginners Guide on Investing: How to choose the best Investment
5. Rediff Money Wiz: Forex
Forex Market is also one of the booming Market in the World. If you are also interested in the Forex Market or Currency Exchange business, you should have a tool that gives you updated information about the value of popular currencies in the World.
Rediff Money has one such tool – Currency Converter, where you can easily find out the real-time value of 21 currencies.
You can see how I have calculated the value of $100 in INR (Indian Rupees). Similarly, you can use this calculator to find out the value of your currency with respect to 21 currencies in the World.
6. Rediff Money My Watchlist
In the stock market, Watchlist plays a vital role in becoming a successful investor or trader. Let us suppose you outlined some of the excellent stock for Investment by using Investment Tools and other features of Rediff Moneywiz. But still, you cannot risk your whole saving on the basis of one tool.
You need to watch the movement of the stock or Mutual Funds for some time before finalizing the Investment in a particular stock. It minimizes the risk involved with stock market investments.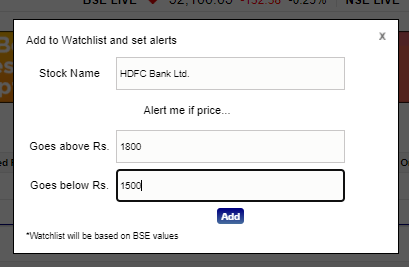 Here I have shown how you can add stock to your Watchlist. I have taken an example of "HDFC." The most important feature of the Watchlist is that you can also set an alert for a specific price movement of a stock.
If you are a stock market investor or trader, you should know how essential Alert features could be.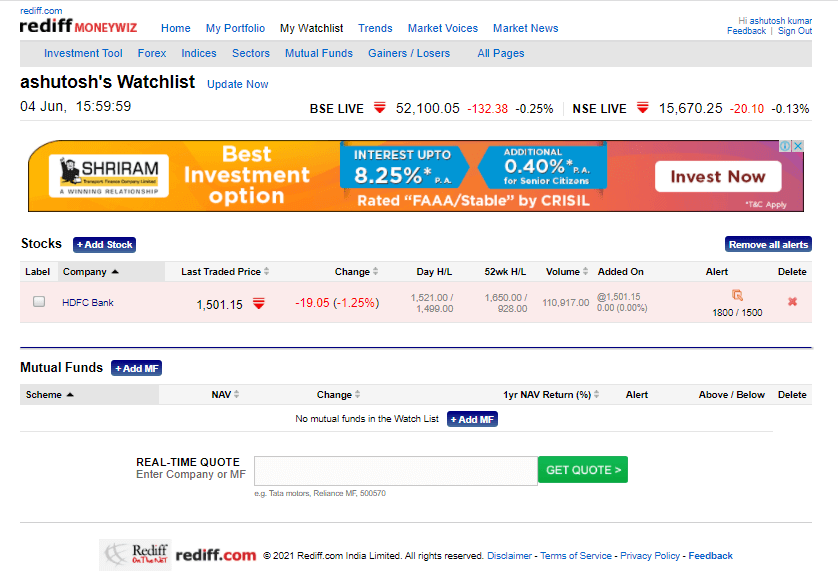 7. Trends of Rediff Money.
If we have to know about the Indian stock market, then we go to the Indian Indices Section. If we need information about World Stock Market, we go to World Indices. Similarly, if we need information about the Forex market, we have to go to Forex Market Section.
So even for a basic overview of the market, we need to go to a separate section. But there is a Trend section in the Rediff Money where you get Market Trends and all the critical updates in one place.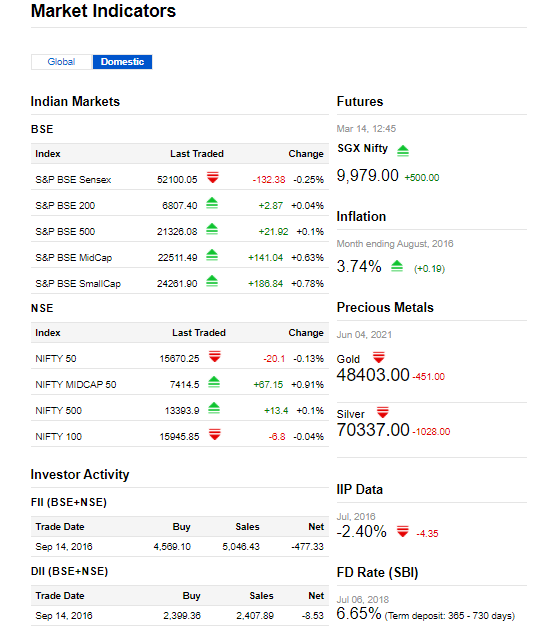 We get most of the valuable information about Different Markets, FII data, IIP Data, Gold rates, Inflation Rates, etc., in one platform
8. World Market Trends:
In the last decade, we all know that the Indian market has been one of the favorite Market for Foreign Institutional Investors (FIIs) so is the other Asian Markets. After the liberalization of the economy, all the Markets of the World have become interdependent. 
Any Movement in one Market directly impacts the movement in other markets. So it the need of the hour to know the real-time direction of the world market and know the global trends.
In the Rediff Money, apart from the Indian Market, you also get real-time trends of other famous Markets of the World like – USA's Nasdaq, Japan's Nikkei, Hong Kong's Heng Seng, etc.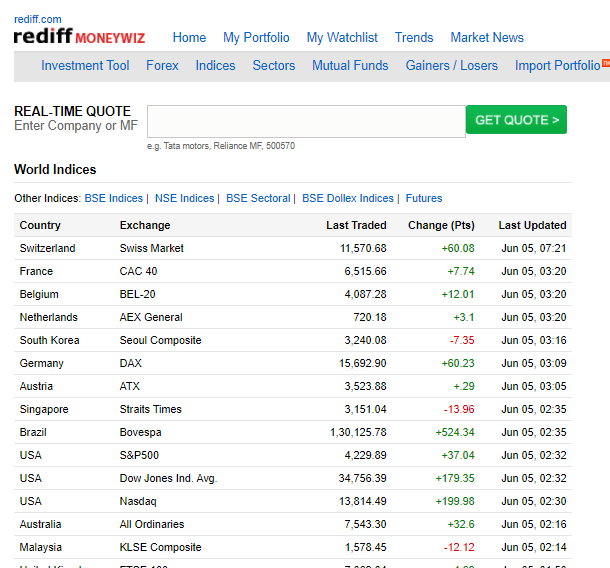 9. Mutual Fund:
Apart from stock information, Rediff Moneywiz also has one section specially dedicated to Mutual Funds. You can find out the return profile of most of the Mutual Funds and Compare the different funds of different AMCs.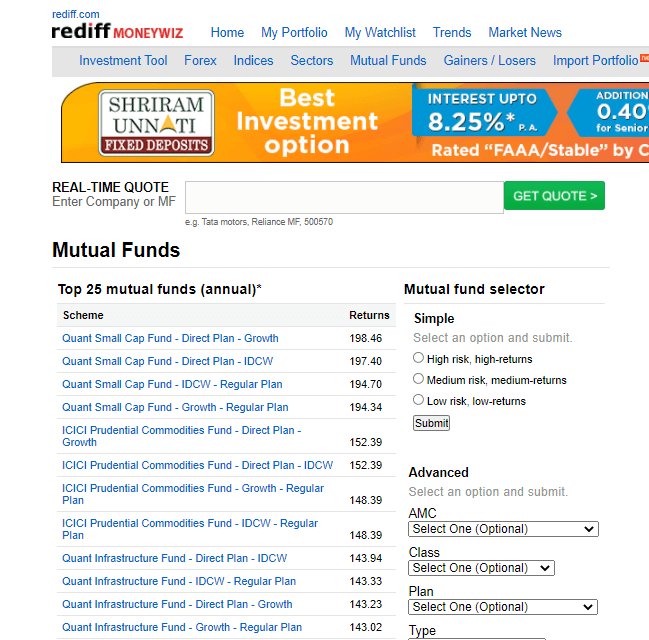 You can select the mutual fund on the basis of various criteria like return profile, risk profile, etc.
Conclusion
If you are an investor or a trader or wanted to explore the share market, Rediff Money is one of the essential tools you should have in your basket. You get all the information relating to the economy, finance, stocks, industries, Mutual Funds, and Investment tools in one place. 
This is the reason I personally use the Rediff Money website for stock market research before making any investment decision. Primarily the Investment tool of Rediff Money is usable from investment point of view.
Apart from that, the personalized portfolio and watch list section have been the most helpful feature for me.
In the post, I have tried my best to cover each and every aspect of Rediff Moneywiz. So that you can decide the utility of the website, but unless you use the website, you can not find the real benefit.
So best of luck, guys.
Disclaimer: The article is for educational purposes only and there is no recommendation by the author to use the app or website in the article. So always talk to your financial advisor or do your due diligence before investing or using any third-party app. For more read our disclaimer policy here.
Subscribe to Learn Smart Income Ideas
Subscribe to our weekly newsletter and never miss the latest TIPS on Smart Income Ideas to Make Money Online. No Spam, No promotion. You will get only one newsletter per week. Get your copy now