If you are looking for the answer to the question "How to earn Rs.1000 per day online from home without any investment", this post is for you. Earning Rs.1000 per day or Rs.30000 monthly is not difficult. For this, you need a solid idea and execution.
This post is also for those who want to earn part-time income with their side hustle. Whether in a job, a student, or a housewife, you can make a regular income by devoting 2-3 hours a day.
One thing that COVID-19 taught us is that if you want real financial freedom, you can't depend on one source of income. It would be best if you always had multiple streams of income. So, If you are searching for ideas to earn 1,000 rupees daily without investment from home, this article is for you.
This blog post will give you the 11 best ideas to consistently generate ₹ 1,000 per day. However, if you work hard, you can surely earn much more than that.
Who should start the work?
There is no bar to who can or can't work. Every person can start working on any income ideas and earn from home as it does not involve any investment.
For a student who want to self sponsor their education by earning money through a side hustle.
A home maker who wanted to be an equal partner with his/her spouse in day-to-day expenses.
If you are in a full-time job but can devote 02 hours daily or 15 hours weekly to generating multiple income streams.
If you are retired from your job and want some adventure in life along with some income. And
If your ultimate aim is financial independence or living a boss-free life.
So, anybody can start working online for a regular income. However, your journey will be easier and more rewarding if you have any skills. But if you don't have any skills, don't worry; you can always learn a new skill within 3-6 months and generate earnings worth 1,000 rupees without hassle.
Checklist to earn Rs.1000 per day online from home without any investment.
Before starting the work from home, you need a solid step-by-step plan for execution. That's why I have prepared an easy-to-follow checklist to guide you throughout the process.
Here is the checklist to generate ₹ 1,000 income on a per-day basis from your home:
Calculate how much time you can devote daily.
Analyze your skills and interest and focus on one idea at a time to start.
Determine what is your minimum target income on a daily or monthly basis.
Based on Checks 1 – 3, choose an income idea most suitable for you and keep your expectations as practical as possible.
Do thorough market or competitor research to get an overview of the income idea.
Chalk out your plan of action for the next year and be consistent.
Review your plan of action to earn Rs.1000 per day quarterly and make changes as required.
Build your personal brand from day 1.
If you didn't get the result, even after one year of following the above steps, change the income idea.
Never Give Up until you earn 1000 rupees daily from home.
List of top 11 ways to earn Rs.1000 per day online from home with zero or very little investment
Here is the list of my best 11 ways income ideas to earn daily ₹ 1,000 rupees for every working and a non-working individual who seeks to make an additional source of money at home.
1. Content Writer
The first popular online work you can start from home and generate ₹ 1,000 income per day is to become a content writer. A content writer's job is to write a well-research article on different topics and categories.
If you are new, you can take on a general project. Once you get the experience, you can choose to work on specialized topics. The more specialized you are, the more money you can make. Some specialized fields with high demand for content writers are business, commerce, finance, taxation, investment, etc.
Earning Potential:
A Beginner level content writer can easily make 1000 rupees for a 1200-1500 words article.
An intermediate-level content writer can earn 1000 rupees for an 800-1200 words article.
An advanced-level writer with specialized topics may charge 1000 rupees for a 500-word article.
The idea is to build your initial portfolio so that your work is highlighted. You can find the work either on freelancing sites like- Fiverr or Upwork or join specialized content provider companies like- contentwriters.com, Apnawriter.com, hirewirters.com, etc. 
2. Become an Image Designer
The second best online work you can start from home to earn daily ₹ 1,000 rupees is to begin with image designing. The only criteria is that you have to be creative while designing images.
You can design images used in digital products and services in the image designing category. There is a high demand for high-quality images for blogs, websites, e-books, social media marketing, etc.
You can sell the images on freelancing platforms like Fiverr, Canva, etc. or through direct outreach by showcasing your creativity on social media platforms. There is a high chance that if you publish some of your work on social media platforms, you will get attention and work.
I have personally spent around Rs.2000 rupees per month for high-quality images. While initially, it may take time to design an image, with experience, you can easily create hundreds of images per day.
You can also design for newly established startups, as they cannot afford full-time photo editors. If you combine the skill with Photoshop skills, there is unlimited potential for a regular income. Here is one example from a Fiverr gig, earning around 8600 rupees or $100 for editing three photos.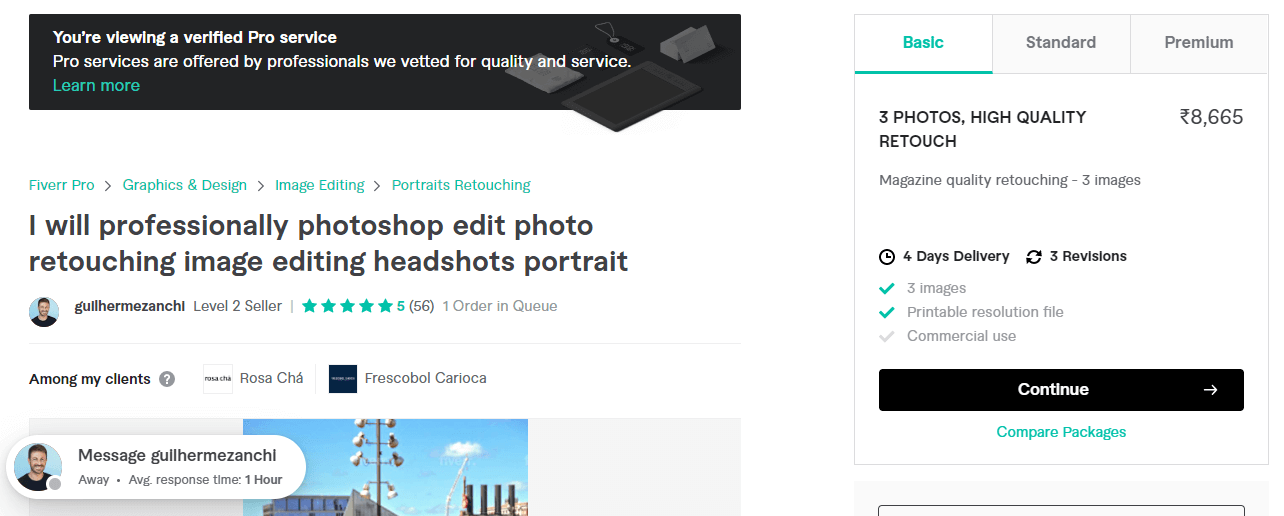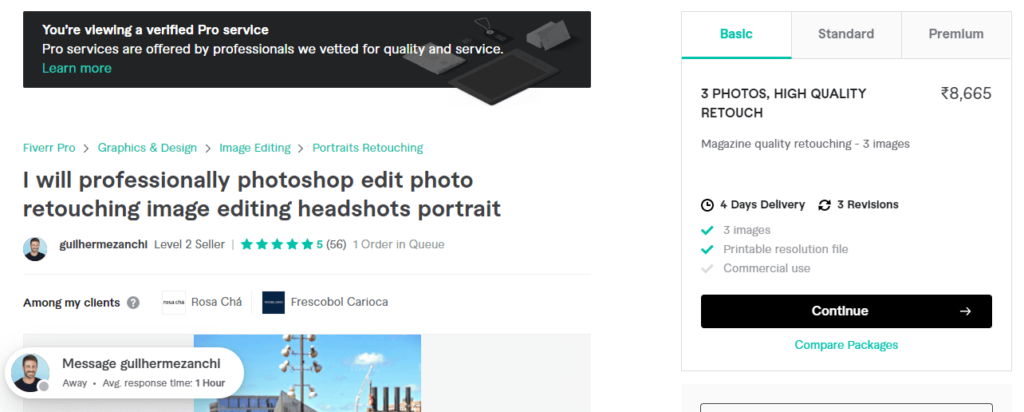 3. Become a Proofreader to earn Rs.1000 per day online from home
A proofreader is a person who makes the content error-proof. Proofreaders ensure that the content is free of grammatical, typographical, Punctuation, spelling, syntax, formatting, and any other error. To become a proofreader, you should have a good grasp of the language and grammar.
Under this category, you will find the work to proofread novels, documents, e-books, blog posts, etc. There is significantly less competition in becoming a proofreader because this is one skill which has very limited supply but is in high demand.
Several high-quality apps like Grammarly, Hemingway, linguix, etc., make your task easy as a proofreader.
Earning Potential
You can easily make Rs.1000 daily from your home to proofread 500-word content. However, once you gain experience, you can charge $100 for a 2000-word content. So even if you get five clients monthly, you can earn 1000 rupees per day online.
4. Become an Online Tutor
The fourth popular online work that you can start from home and earn daily ₹ 1,000 rupees is becoming an online tutor.
This is a trendy idea because the whole education field faces a change after the pandemic. During COVID-19, the demand for online tutor services has grown immensely. And the trend continues even after the pandemic.
Online tutoring service is a win-win situation for both students and teachers. Students get high-quality teachers worldwide, and tutors can teach thousands of students at a time while working from home and making money.
The only requirement is to have good communication, teaching skills and presentation skills for an online audience. If you are not comfortable teaching live, you can also record your classes and publish them on online platforms like- Udemy, YouTube, etc.
There are multiple options to earn from tutoring services. You can charge hourly/daily/monthly fees. There is an unlimited potential to earn from the skill.
You can record your video classes and publish them on websites and charge a nominal fee of Rs.999 per course. Even if one person buys the course, you can make Rs.1000 per day online with one-time work. It will act as a passive source of income.
5. Earn through Cooking Classes
The fifth income idea that you can start from home and generate ₹ 1,000 income on a per-day basis is by starting online cooking classes.
This idea is purely skilled-based but high in demand. If you love to cook, this can be a high-income-generating idea because many people eat food but don't know how to prepare good food.
This is the best income idea for homemakers to work without effort and earn money. The best way to start is to record whatever dishes you prepare in your home and publish them online.
There are two main ways you can make money. Firstly, publishing videos while preparing different dishes on online platforms like YouTube. Secondly, you can create your food blog, publish a food-related article, and earn money.
So initially, you may not earn enough money as you would have fewer followers. However, once your channel or blog gets views, you can earn a handsome passive income for a lifetime. Later on, you can also provide online classes for food lovers.
6. Yoga Instructor
The sixth popular online work you can start from home and generate daily income is by becoming a Yoga Instructor. One thing that the Covid-19 pandemic has taught us is that health is real wealth.
That is why most people have been adopting a healthy lifestyle. You would have observed that hundreds of online apps came after Covid to provide health-related health-related services. A healthy lifestyle depends on many things like eating right, regular exercise, a healthy mind, etc.
While exercises can make your body stronger, Yoga plays a vital role in your mental health. But there is a wide gap between the supply and demand of Yoga instructors. So there is a very high chance that if you possess good skills in Yoga, you can make a regular income.
There are two ways to earn online Rs.1000 per day or more as a Yoga instructor. First, you can work part-time as a freelancer through fitness apps like- HealthifyMe, Curefit, etc. Second, You can start your Yoga classes through an online platform and charge a fee.
You can also record Yoga lesson videos and sell them online for a nominal fee. Similarly, you can also make a blog and publish Yoga related articles to earn consistent regular income.
7. Artistical Classes
You can earn regular money if you have good skills in artistic works like singing, painting, violin playing, etc. This is my seventh income idea; you can start from home and earn daily income without paying anything.
This is the skill for which there is a very short supply of good teachers. While learning an artistic skill through physical classes is more common, you can also teach online and easily make 1000 rupees a day.
Initially, you may find it difficult to get students. So the best way is to start by uploading some videos on YouTube and Social Media Platforms. These platforms will help you to build your brand.
Once you gain followers and students, you can also record training classes and sell the course through online platforms like Udemy, Skillshare, etc. Apart from that, as a freelancer, you can also make music videos, produce music videos, create a mockup of music, etc.
For one music video, you can easily charge Rs.50000 to Rs.200000 or $500 – $2000. But it would be best if you had a very good understanding of music. So there is unlimited potential to earn online income.
8. Video Editor
Video editing is the eighth most popular online work you can start from home. Have you watched the ironic movie KGF 2? Do you believe that a 19-year young boy does the video editing of that movie?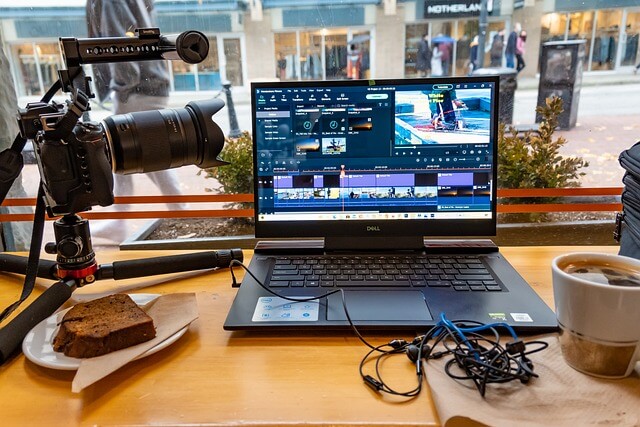 This is also one of the most progressive earning potential fields. Initially, you can start video editing online as a freelancer. Video Editing is a high-demand work. With the increased video content over the internet, the demand for video editors also increased significantly.
There are a lot of Video content creators who need an expert editor. So, if you have a passion for video editing work, you can start work as a freelancer.
You can search for work on a freelancing platform or directly pitch to your client through LinkedIn or personal email. But before pitching, you must keep sample work ready to get a positive response.
The good thing is that even as a beginner, you can earn around Rs.1000-Rs.5000 per day for editing a 30-minute video. Your per-day earnings will gradually increase with your expertise. There is a freelancer who charges more than $1000 for a 15-minute video editing.
9. Website Developer
Website development is the ninth most popular online work; you can start from home with zero investment. This is one of the ideas we have discussed in our previous blogs many times.
Because this is also one of the sectors where growth and earning potential are very high, with the increase in internet penetration, thousands of businesses want to set up their online presence but don't know how to start.
So there is a huge market for a website developers. You can start with small projects for small businesses. You can approach small vendors and companies to find your initial clients. The market is vast, and if you successfully manage local clients, you can earn more than ₹ 1,000 per day.
10. Become Social Media Manager
Do you have the skill to engage with social media followers? Do you know how to make posts go viral? Do you know how to gain followers? If yes, you have the potential to earn more than 1000 rupees per day with zero investment.
Nowadays, every business wants a good presence on social media like LinkedIn, Facebook, Instagram, etc. But they can't hire a full-time employee for the job. This is where you can take advantage and work as a freelancer and charge a monthly fee to manage your social media account.
There is social media manager who charges more than $1000 per month to manage a singly Twitter account. The best part is that you don't have to work the whole day. You have to work for 2-3 hours daily to earn a decent income.
There is the freelancer who also charges more than $5000 to gain a particular number of followers. So if you have the skill to manage social media, this is the best job to earn consistent money from home.
11. Affiliate Marketing
Last but not least, affiliate marketing is the most lucrative way to earn at least Rs.1000 per day.
An affiliate marketer is a person who earns a commission by advertising and selling different company products through personalized links. This is a very high-earning income idea source whereby you can generate daily passive income for life.
There are thousands of websites, influencers, bloggers, etc., whose major source of income is affiliate marketing. Affiliate marketing is a new way of selling a company's product without being more salesy.
But the only criterion is that you need to make your brand and gain followers. Once you have a good number of followers, you can recommend your favorite product to them and earn regular income.
Sometimes your follower also gets an extra discount while buying through your link. So basically, it is a win-win situation for affiliate marketers, companies and customers. Affiliate marketing has unlimited earning potential, depending on the type of product you promote.
For example, for a successful purchase of Bluehost hosting purchase, you get a $65 commission. Similarly, for a successful referral of Fiverr, you get $150 per sale. So earning 1000 rupees daily is not difficult for an affiliate marketer.
Where to find the work to earn Rs.1000 per day online from home?
Some works do not require any platform, and you can work directly from your home like- Affiliate marketing, Social media Marketing Manager. However, some works like- content writing, image designing, online editing, etc. are not easy to find.
So, I have curated a list of the top 7 websites to find the work to earn Rs.1000 per day online.
LinkedIn: LinkedIn is a platform where you can connect with almost any company's HR manager and directly pitch for work. Sometimes companies also contact you and offer you the work.
Upwork: Upwork is one of the most trustworthy websites for freelancers because of its screening process. Once you get successful registration, you can find a wide variety of work.
Toptal: Toptal has very high standards for its freelancer so is the screening process. It claims to have the top 3% of freelancers on its platform. This is the reason you could get the work from reputed companies.
99designs: This platform is best for designers who are looking for online work to earn money.
ServiceScape: If you are a freelance writer, Editor, Translator or graphic designer, Servicescape is the best website for you to find the work.
Freelancer: Freelancer is also one of the most popular sites for freelancers. You can directly pitch the work to your possible clients.
Fiverr: Fiverr has emerged as one of the most popular freelancer gig platforms around the globe. Its' secure payment system, easy-to-work interface to connect with possible clients, and low-commission model work best for a beginner.
Final Thoughts
Lastly, I would summarize all the income ideas to generate Rs.1000 per day without any investment while working from home.
Content Writing work.
Image Designing.
Proofreader.
Online Tutor
Providing Cooking Lessons
Become a Yoga Instructor.
Providing Artistical Lessons
Video Editing service.
Website Developer
Social Media manager
Affiliate Marketing.
There are multiple opportunities exist in this digital world to earn daily income. However, I have listed only a few popular ways to make money. You only need to polish your skills and make a start. If you start early, you will surely get results from your efforts.
Earning from home online brings excellent opportunities, especially when you don't have an active income source. The ideas discussed above are the high-income source, in which anyone can try and earn ₹ 1,000 per day online from home without paying anything.
Please let me know in the comment if any of you are making Rs.1000 or more on a daily basis.
Best of Luck
Disclaimer: The above ideas are for educational purposes only. We don't guarantee earnings from the above methods as it is based on my personal experience. Some links on this page may contain affiliate links and we may receive a commission if you click and purchase from the links. For more detail, please read our disclaimer.
Subscribe to Learn Smart Income Ideas
Subscribe to our weekly newsletter and never miss the latest TIPS on Smart Income Ideas to Make Money Online. No Spam, No promotion. You will get only one newsletter per week. Get your copy now