Do you enjoy capturing photos and want to monetize your photography skills but don't know how much money you can make by selling photos online? In this post I will talk about the exact process and all the nitty-gritty of how to sell your photos online and make money while working from home.
In this complete guide, You will learn about
Who should start the work?
How to start the work to make money online by selling photos.
What are the requirements?
What is the earning potential?
What are the top websites where you can sell your photos online?
Frequently Asked Questions (FAQs)
Therefore, if you are a complete beginner, by the end of this post, you will know all the nitty-gritty ways to make money online by selling photos.
Let's start with the very important Question
Who should do the work?
There are no specific criteria to start the work. Whether you are a college student, a homemaker, a freelancer, or a salaried class, you can earn money by selling photos.
Therefore, if you are a beginner with good skills in clicking, editing, and designing, this can be an earning opportunity for you to sell pictures for money.
However, you should remember that this is a side hustle in addition to your regular work. Because, as a beginner, you may not earn well to cover your monthly expenses.
So, now you have decided to earn money by selling photos online, let's discuss the next Question.
What is the requirement to start the work?
While no hard and fast skill sets are required to start this work, you need to have some essential skills to achieve quick success. I have divided the skillsets into two parts, i.e., Hard skills & Soft skills. Let's discuss this in detail.
Hard Skill
Having technical knowledge about different types of cameras. This will help you to decide which camera is most suitable for different situations.
Knowledge about how the camera works. This will help you to click professional photos.
Photo editing skills. While editing work could be outsourced, knowing the skills will help you to make your photos professional.
Basic computer skills include creating your account online, listing photos on websites, etc.
Soft Skill
Creative and imaginative skills to make your photos different from others. This skill comes with experience. So Get yourself trained under experienced Photographs.
Learn how to sell your photos on online platforms.
While the above list of skills may seem very long, the best part is that all these skills can be learned in a few weeks.
Now you know the skill sets required to generate online money through photos, let's talk about the next Question
What is the earning potential?
Before talking about earning potential, one thing you keep in mind is that you can't become rich by just selling photos. So, keep this as a side hustle. However, you can earn a decent income by combining this with other skills such as graphics designing, photo editing, etc.
If you choose to sell your photos through online platforms, such as Shutterstock, Getty Images, Adobe Stock, etc., the earning potential will depend on the commission structure of the platform and the number of photos sold.
The commission rates for online stock images platforms vary from 15% to 50% of the sale price, with higher rates for exclusive contributors or those with a higher sales volume.
You may not earn more than a few dollars for 3 to 6 months as a beginner. However, once you have enough collection of images on different online platforms, you can earn between $500 to $2000 per month as a side hustle.
If we talk in terms of per-image earnings from this work, then the range would depend on the skill and experience of the contributor.
The earnings will also vary as per the platform. Therefore, I have given the probable earnings that any beginner, intermediate, or experienced can earn per the industry standard.
What are the websites to sell your photos and make money online?
There are multiple platforms where you can earn money online by selling photos. So, I have curated a list of the top 7 photo selling websites to generate regular side income from home.
1.Shutterstock ( Earn more than $2000 by selling photos)
Shutterstock is also a leading global website where a community of contributors works together and earns money from selling photos online.
You can contribute to Shutterstock by following some simple steps and making money through Shutterstock.
Create high-quality images.
Upload images on the website.
Earn money on every image when buyers download images worldwide.
Apart from images, you can also upload high-quality videos on Shutterstock to earn money online.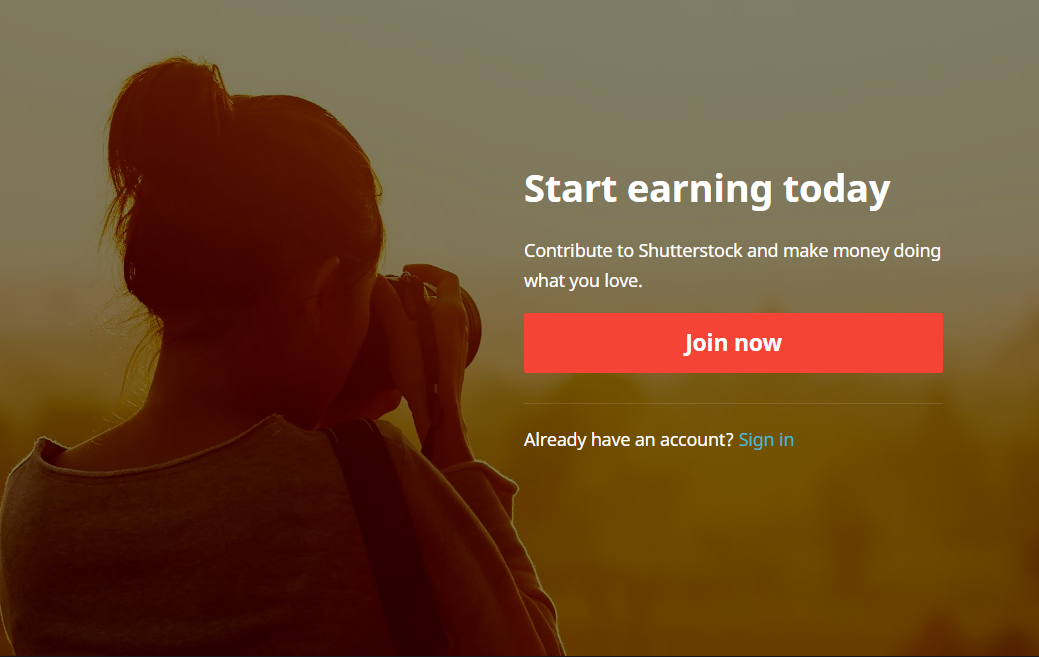 Do you know on Shutterstock, for five images, a customer pays $50? Similarly, for 25 images, Shutterstock charges $229. A contributor gets a good share of those earnings. Shutterstock pays up to 40% to its contributors.
The earnings from Shutterstock depend on the number of images licensed every year. Shutterstock has divided its contributors into 6 Levels. A level 1 contributor gets a 15% commission, and a Level 6 contributor gets a 40% commission. So, the approximate earning potential from Shutterstock could be as under:
| Earning Potential | No. of image sold in a month | Rate per image | Your earnings |
| --- | --- | --- | --- |
| Beginner | 100 | $8 | $120-$320 |
| Intermediate | 500 | $8 | $1000 – $1600 |
| Experienced | 1000 | $8 | $2400 – $3200 |
So, the more images you sell on Shutterstock, the higher your commission.
Shutterstock also has an app for contributors to upload their images directly from the App and track their earnings after every image download.
2.ADOBE STOCK (Earn more than $500 for licensing photos)
As a creative photographer, you can also contribute your skill and work to the world's largest creative community, "ADOBE STOCK COMMUNITY." The best part of Adobe stock is that there are many opportunities apart from selling photos only.
You can start earning as a creative flair and adobe stock contributor by uploading high-quality photos, premium stock images, stock video footage, vector content, and royalty-free templates.
At Adobe Stock, you can earn 33% royalties on images and 35% royalties on videos. Basically, your earning depends on the buyers' plan. Suppose a buyer purchased 25 photos monthly licenses at the rate of $50. So the royalties would be ($50/25 X 33%) $0.66 per licensed photo.
The minimum royalty on Adobe stock is $0.33 per licensed photo. While it is difficult to classify the earning potential as it depends on many factors, I have given an approximate earning a contributor can make on Adobe Stock.
Income potential for image seller
| Earning Potential | Number of licensed image per month | Earning ( per Month) |
| --- | --- | --- |
| Beginner | 100 | $33 – $333 |
| Intermediate | 300 | $99 – $500 |
| Experienced | 1000 | $330 – $1000 |
3.Gettyimages by iStock
This website is also one of the best places to sell photos for creators who enjoy photography and want to earn money online by selling photos.
You can work with Getty images to access one of the world's largest distribution networks. It has more than 800k customers around the world.
How to apply as a contributor to Gettyimages
Download Getty Image App and apply as a contributor (It only accepts applications through mobile App)
Upload your own copyrighted photos as sample
After acceptance of your work in the review process, Getty images will offer a non-exclusive agreement.
Accept the invitation via email Invite to get successfully enrolled.
Now you can upload your images and earn royalties through iStock & Getty images.
You will earn a royalty between 15% and 45% on each creative photo, video, or illustration you upload on the website. You earn whenever anyone licenses your photos, videos, or illustrations.
However, the commission structure depends on factors such as exclusive or non-exclusive membership, iStock or Getty image licensing, photos or video content, etc.
In iStock, the commission rates start from 15% and can go up to 45% for exclusive membership. Similarly, the commission varies from 20% to 25% in Getty Images.
The approximate amount of money you can make by licensing photos from Getty Images is as under:
| Earning Potential | Earning ( per Month) |
| --- | --- |
| Beginner | $100 – $500 |
| Intermediate | $500 – $1200 |
| Experienced | >$1200 |
4.Canva
Canva is the most popular and leading platform where anyone can become a contributor and sell images for money. Canva's contributor program is also called Canva Element Contributor.
There are multiple ways to earn money for those who have skills. However, presently you can make money through two ways on Canva are
Become a Template creator. Examples of templates are customizable layouts for social media posts, videos, flyers, posters, etc. It is best for graphic designers, web designers, etc.
Become an Elements creator. The elements include photos, vectors, illustrations, icons, etc. This is best for photographs, artists, typographers, etc.
The best part of canva.com is that you can contribute and publish unlimited images with different varieties of work. The payment depends on how much usage your contents have on canva.
The earning structures are somewhat different on Canva. The creators are paid from the royalties pool, which is calculated based on Canvas monthly subscription revenue. So, the exact earnings amount varies and is kept confidential.
Important Note: Right now, Canva has stopped accepting new creators. You can check the updates here.
5.Unsplash
Unsplash is also one of the best platforms where you can earn money by selling photos online. There are more than 300k contributors on the platform. You can also chat with fellow contributors and get feedback on your photography skills.
The best part of Unsplash is that you can explore the trend of pictures that are in demand by potential buyers. Unplash also statistics about the images you upload such as keywords, search views, growth percentage, etc.
These stats help contributors to decide which photos to upload and which keyword to target as per market demand. This ultimately enhance your income potential.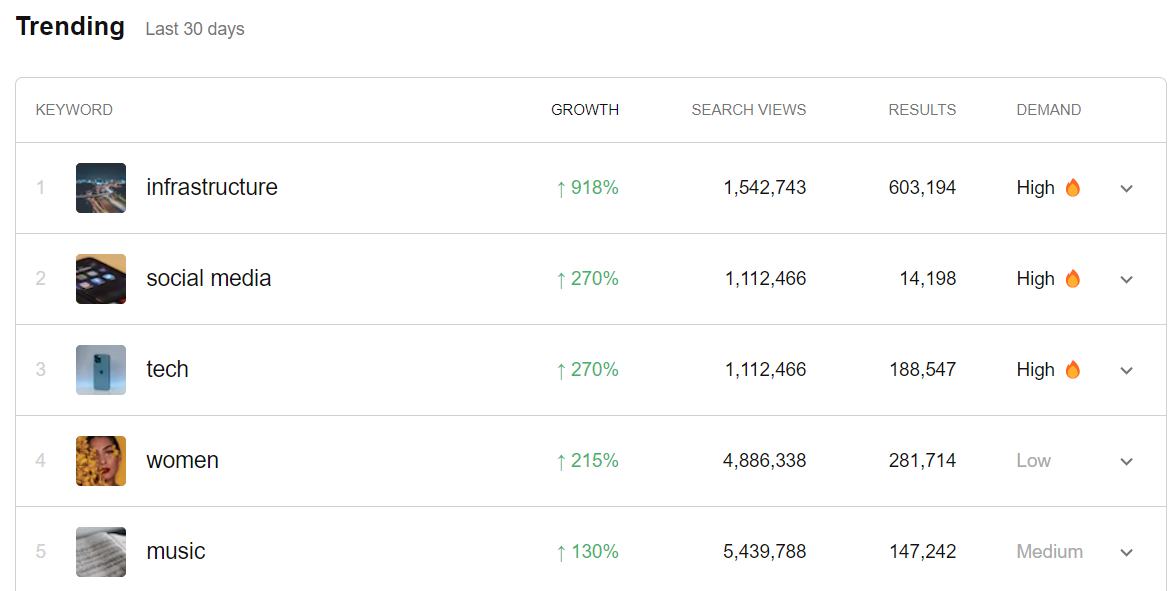 Unsplash has launched a subscription based system Unsplash+ for its members. You can become Unsplash+ contributor and get paid for content exclusively made for the platform.
At Unsplash+, instead of royalty you get paid a one time amount for your every image accepted. So, it doesn't matter if your images are downloaded or not. The rates of payment on Unsplash+ varies from $5 per image to $30 per image.
Apart from earning money from submitting images at Unsplash, you can also earn a cash prize of $500 by participating in the Unsplash awards every year.
6.Deposit Photos
This is another great platform for professional photographers, including beginners and amateur photographers, videographers, designers, illustrators, and other digital artists.

You can become a contributor and earn by depositing creative photos and videos and by participating in creative contests. You also get insights about the images you upload through analytics.
Earning potential on Deposit photos
| Earning Potential | Earning ( per Month) |
| --- | --- |
| Beginner | $200 – $300 |
| Intermediate | $300 – $1500 |
| Experienced | >$1500 |
7.FREEPIK.com
Freepik is also one of the popular platforms for selling photos, vectors, illustrations, templates, PSD, etc., online and generating side income.
This platform has 2 million downloads daily, with over 34,000 contributors. You need to apply to become a contributor to make money.
After creating an account, you must upload ten pieces of high-quality content, such as vectors, photos, etc., for review. Once your resources are approved and published on the platform, you earn a bounty for every download.
You can also boost your earnings by participating in special promos and referral programs on freepik.
Earning potential from freepik
| Earning Potential | Earning ( per Month) |
| --- | --- |
| Beginner | $150 – $300 |
| Intermediate | $300 – $1100 |
| Experienced | >$1100 |
Tips on how to start selling photos online to make good money?
Now you already know the skills required to become an online photo seller, the earning potential, and popular websites where you can start the work.
Let's discuss some important tips before starting the work to become successful as a creator.
Bonus Tips: Combine multiple skills such as graphics designing, logo designing, and Social media post designing along with online photo selling to make a decent income from home.
Final Thoughts
In conclusion, Selling photos on online platforms can be a great way to monetize your skills and turn them into money-making ventures. The best part is even a beginner can start the work.
Because you can learn all the required skills within a few weeks and start making money by selling photos right away by following the above steps. This could also be a great side hustle for college students or homemakers.
That's why I tried to cover all the nitty-gritty of how to earn money by selling photos. However, it's important to remember that competition in the online photography market can be fierce. So success often requires a combination of talent, hard work, and a willingness to learn and adapt continually.
Frequently Asked Questions
1. What type of photos sell best?
High-quality photos with uniqueness, like illustrations, mockups, etc., are visually appealing and can be used on multiple platforms to sell the best.
2. Is it legal to sell pictures of yourself online?
Yes, it is legal to sell your photos online. But you must be careful about the usage of photos.
3. How much does Shutterstock pay per photo?
Shutterstock pays commission from 15% to 40% depending on which level you are and the level is decided on the basis of the number of photos you sell in a year.
4. Can I earn money by uploading photos?
In photo stock websites, you just need to upload high-quality photos. For every successful download or license purchase, you get paid a commission.
5. Is it hard to sell photos?
Selling photos is not so easy and very challenging due to high competition. It requires the right product, promotion strategy, hard work, and consistency.
6. Can I sell photos for free?
Yes, you can sell photos without paying any fee, as you don't have to pay money to apply to become a contributor. As these platforms are commission based, You are paid a certain percentage of commission after every purchase.
7. Can I sell photos from my phone?
There is no difference between selling photos from your phone or computer. You can easily upload images on online platforms. However, you may need a good-quality camera phone to click good-quality photos.
8. Which site pays most for photos?
Shutterstock and Getty images by iStock are the most rewarding platforms. While Shutterstock's commission ranges from 15% to 40%, Getty images pay between 15% to 35 %.
I hope I have covered all the inside strategy and tips on how to make money online by selling photos. Feel free to ask in the comments section if you have any doubts.
Disclaimer: The above ideas/strategies are for educational purposes only. We don't guarantee that the above methods will work for everybody as it is based on my personal experience. So, please do your own due diligence before working on any idea. Further, the potential earning are for only reference purpose and the actual earning may vary person to person. Some links on this page may contain affiliate links and we may receive a commission if you click and purchase from the links. For more detail, please read our disclaimer.
Subscribe to Learn Smart Income Ideas
Subscribe to our weekly newsletter and never miss the latest TIPS on Smart Income Ideas to Make Money Online. No Spam, No promotion. You will get only one newsletter per week. Get your copy now