Investing in the US market used to be a dream for many because of cumbersome process. But thanks to platforms like- INDMoney, Vested, ICICIDirect, etc., now you can invest without any hassle. In this article, I will give a comprehensive review of INDmoney App and help you to decide whether INDmoney app is a good choice to invest in the US market or not.
Investing in the global market is one of the best ways to diversify your portfolio and manage your risk. So keeping that in mind I will cover detailed review of the INDmoney app for US market investing, including account features, brokerages, charges, the risks and rewards of global investing, and some tips on getting started.
What is INDmoney App?
INDmoney is a fintech app that was launched in the year 2019 in India. With its user-friendly interface, excellent features, and easy accessibility, the App has quickly become a popular choice for managing personal finances in India.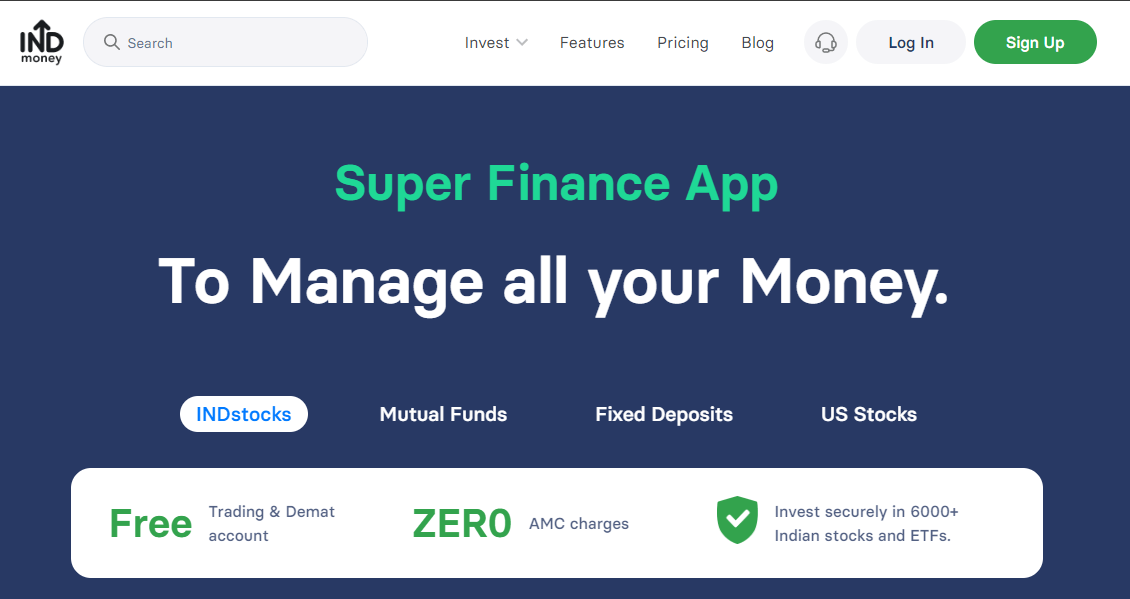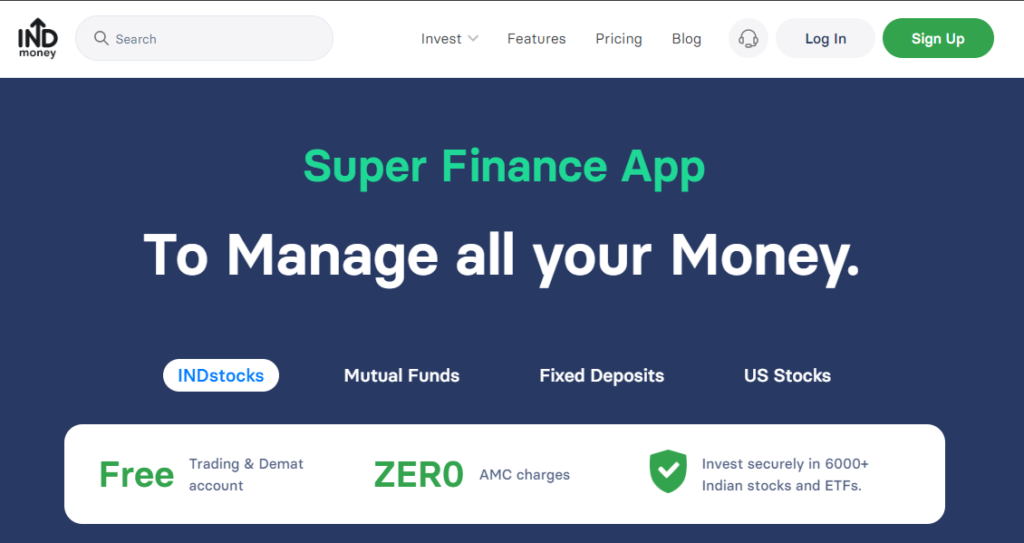 It provides users a platform to manage their finances, invest in various financial products, and track their investments. The App aims to make personal finance management easy, accessible, and convenient for users.
INDmoney app offers innovative features such as US stock investing, Neo Banking, Deposits, and financial life tracking & management in partnership with SBM Bank India.
In this article, we will look in-depth at the INDMoney app and see what makes it a top choice for personal finance management. Before we dive into features of INDmoney, let's discuss what are the merits and demerits for investing in US Stocks.
What are the pros and cons of Investing in US Stocks?
Although presently, there are multiple opportunities available in India to invest and get multi-bagger returns, US stock investing gives another opportunity to invest your money.
However, after COVID-19, a new section of investors came into the stock market with half the knowledge and less market experience. Further, many fintech companies are marketing the US stock market investing in such a way that it is easy to become rich. They generally talk about stocks like- Google, Apple, Microsoft, Tesla, etc., to prove their point.
As a result, US stock investing has become a status symbol rather than a requirement. So, for all those new investors, I am giving the advantages and disadvantages of US share market investing for better decision-making.
Pros of US stocks investing.
Diversification of portfolio: Diversification of your Portfolio with the inclusion of global investing.
Investing in Global Market Leaders: Opportunity to Invest in leading Global Companies like- Google, Meta, Amazon, etc.
Protection from Currency fluctuation: Protect your return on investment with currency rate fluctuations, as the US dollar is one of the most stable currencies in the world.
Fractional investment: Opportunity to invest in US stocks fractionally, like – 0.3%, 0.25%, etc.
Benefit from Rupees depreciation: As INR is depreciating almost 4% yearly against the US $, even if markets don't move, you get a return of $% on your investment in rupee terms.
Cons of US Stocks Investing
Intermediary risk: Retail investors can not invest directly in US Stocks. There are intermediaries involved, which makes your investment a little risky.
High Charges: There are many charges like- withdrawal fees, currency conversion charges, TCS, etc., while withdrawing funds from your US Stock account to your Indian Account, which lowers your return.
Investment limit: There is a limit for the investment of $250000 under LRS, after which you require permission from RBI.
High Tax: As you are investing in the US market, you must pay tax @25% on the sale and purchase of US stocks. Further, you also have to pay capital gain tax in India.
Geo-political Risk: Any adverse changes in bilateral relations between US and India will directly impact your investment in the US Stock Market.
Local Market Risk: While the US is an international hub of business, any adverse changes in the country, like- war, national disaster, political instability, etc., will directly impact the US market and investors.
What are the significant features of the INDmoney Account?
On the INDmoney app, you will find multiple features that help you achieve your future financial goals better. Some of the primary account features of the application are as under-.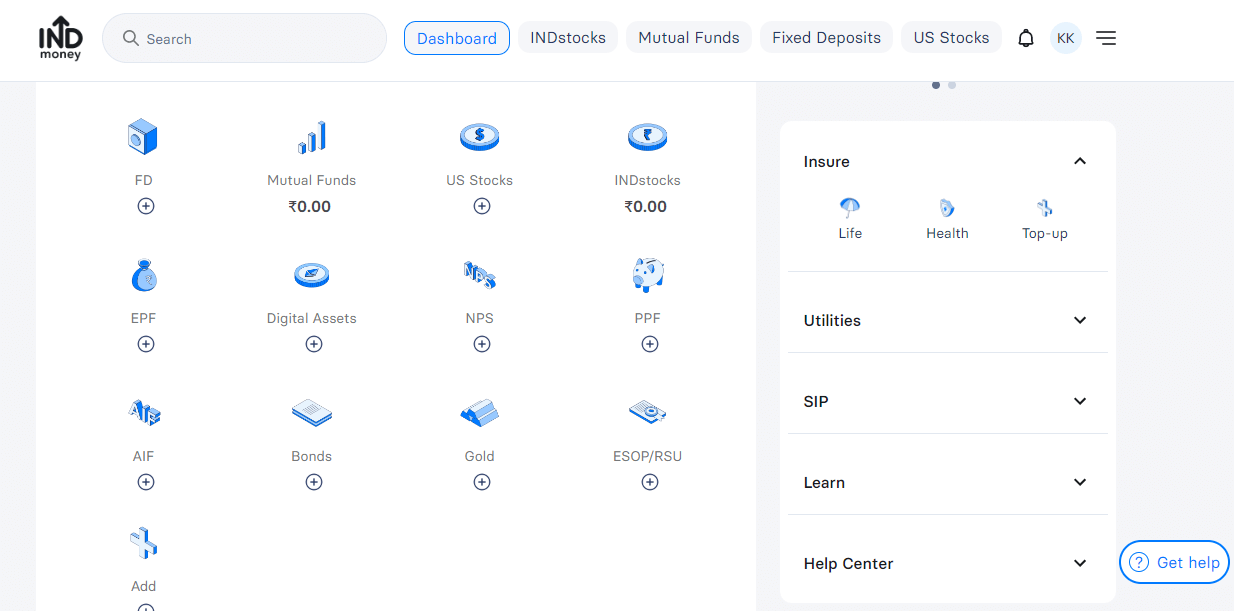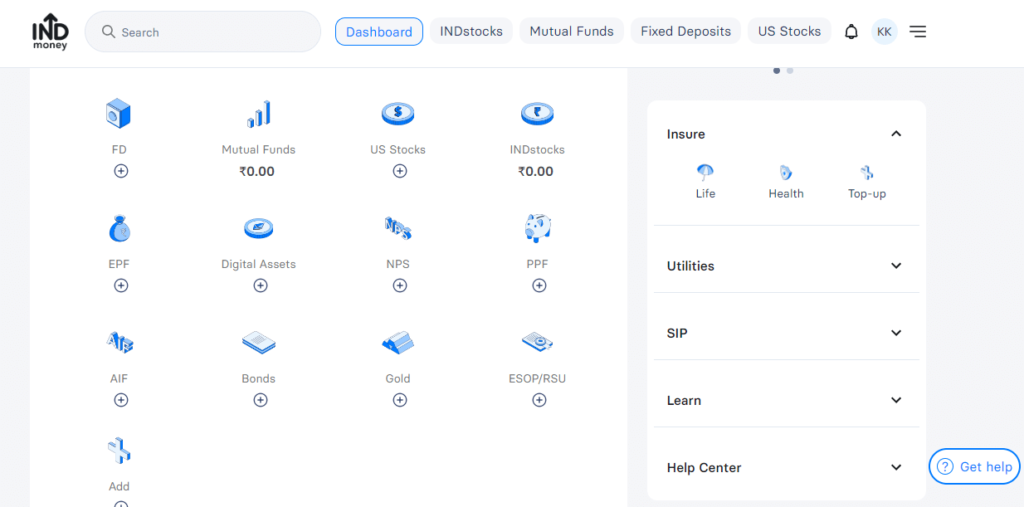 1. Demat & Trading Account
Once you open your account with INDmoney, you get 2-in-1 Account i.e. Demat Account and Trading Account. Best part is that you can open your Demat Account in an absolutely paperless manner from your home. With INDmoney App, you can invest both in Indian Stock and US stock. You can also invest in SIPs, Stocks, Direct Mutual Fund, IPOs, FDs, etc from one single app.
While many of the AMCs charge a fee from Rs.200 to Rs1000 as Account Maintenance charges, You don't have to pay any AMC charges to keep your account in INDmoney App.
Also Read: Best Demat Account to open your trading account in India
2. US stocks account – Explore US Stocks and ETFs
US market investing is the best feature of the INDmoney app, through which individual investors can explore global investment opportunities. US Stocks are bought and sold on major global exchanges like NASDAQ, Dow Jones, and New York Stock Exchange, just like we have BSE and NSE in India for purchasing domestic companies' stock.
You can not invest in US stocks without having an account with US brokers. So, INDmoney has a tie-up with brokers like- Drivewealth & Alpaca which are registered with the USA Securities Exchange Commission. For remittance purposes, it has a tie-up with SBM Bank India.
You can directly invest in US stocks without any commission (precisely at zero commission) through the INDmoney account. It also offers you the following features and advantages:
Zero Commission Investing
No setup/monthly fees to get started
Zero Account Opening with no paperwork and instant processing.
Faster remittance on buying and selling stocks
3. Mutual fund account
You can directly invest in the most popular Mutual fund houses at zero commission to gain wealth on a long-term basis through the INDmoney app.
INDmoney offers you to invest in funds such as Index Funds, Flexi Cap Funds, Large & Midcap Funds, and top equity funds of the mutual fund industry.
It also allows you to track your existing Mutual fund's investment and portfolio in one place with zero commission on investment and 0% commission on buying and selling.
4. Track all your Investment
One of the best features of the INDmoney App is tracking your finances in one place. If you have an INDmoney app account, You don't have to install multiple apps for different financial requirements like- loans, FDs, Mutual Funds, Stock Investments, ETFs, etc.
You can also track all your credit cards and monthly bills by linking to your email account and credit card with the INDmoney app.
5. Insurance Service
With INDmoney App, you can also track all your insurance in one place. It also suggests the insurance required per your personal goals, assets, and future liabilities.
INDmoney also has to tie up with different insurance providers and work as an insurance service aggregator. So, apart from insurance advice, you can also purchase Health and Life Insurance on the INDmoney app at an attractive price.
6. Investment Advisory
Investment Advisory service is the premium product of INDmoney. Under this service, firstly, risk profiling of an individual was done as per personal goals, as everyone has their risk appetite. Once risk profiling is done, customized financial planning is done as per individual needs on a fully automated system.
So if you have a doubt about your financial health, INDmoney can help you determine whether you have enough emergency funds, health protection, or life insurance.
7. Cash Lending Services
INDmoney also gives a cash lending service under the name of INsta Cash. INsta Cash is for those who need instant liquidity. It is like your personal wallet with the flexibility to withdraw the amount of money as per your requirement and pay interest only for the withdrawal amount, not on the wallet amount.
The best part is that the interest rate for EMI to pay back the amount is the same for every EMI period. So, INsta Cash is for those with an emergency cash crunch who want to avoid getting into the complicated process of a personal loan.
However, the only drawback is that the INsta cash facility is currently only available for selected customers of INDmoney.
8. IND Learning Centre
Before embarking on a journey to a new investment opportunity, it is essential to learn all the basics. INDmoney offers exclusive courses to educate users before starting their investment journey on INDmoney App.
If you are a beginner, you can explore courses to enhance your knowledge and become a pro investor. Some of the courses are :
Basic course on Saving
Basic course on Investing.
Basic course on Mutual Funds
9. Super Saver Banking
INDmoney offers a Super Saver Account in partnership with SBM bank India. This account has been provided with the motive to experience the best exchange rate in the country with the following features such as:
Hassle-free zero fund transfer fee for your INDmoney US stocks accounts
Get more dollars for your rupees.
10. INDmoney Super saver FD
INDmoney, super saver FD, is also an excellent feature of the App where you can open your fixed deposit with three different banks or NBFCs – SBM Bank India, Shriram Transport Finance, and Bajaj Finance Limited.
These fixed deposits are provided at an attractive interest rate with low risk and are accredited by CRISIL, a reputed credit agency, and the Reserve Bank of India.
What are the INDmoney Charges?
No INDmoney charges are applicable on investing in any product on the INDmoney app. From creating an account to kickstart your investing journey, there are no hidden or specified charges applicable on placing an international investment order in US stocks, mutual funds, or ETFs.
However, INDmoney charges a withdrawal fee of $5 for transferring back the money from US stock account to Indian Account. But you can make it to $0 by upgrading to Instant Transfer plan
That's why the INDmoney app gives you the freedom to invest hassle-free, plan your future goals, and grow your net worth. The only charges that can be applied are Security Transaction Tax levied by SEBI, Exchange Transaction Tax, Stamp Duty, and SEBI turnover fees.
As these charges are mandatory, they will be leviable on every investment purchase and sale in India.
Brokerages and charges at INDmoney App for investing.
Features / Services
Indian Stock market Charges
US Stock market Charges
Account Opening fee

₹ 0

₹ 0

Account Maintenance Charges

₹ 0

₹ 0

Brokerage Charges
0.05

₹ 0

Super Savings Account
NA

₹ 0

SIPs
(SIPs in US Stocks and ETFs)
NA

₹ 0

DP Charges for Delivery
₹13.5/scrip
NA
Exchange Transaction Charges
NSE 0.00345%
BSE 0.00375%
NA
STT
Delivery Buy and Sell-0.10%
Intraday Sell- 0.025%
NA
Stamp Duty
Delivery Buy- 0.015%
Intraday Buy- 0.003%
NA
Physical Statement Courier
₹300 per request + (₹300 courier charges)
NA
Demat Charges
(Including the depository transaction charges)
₹250 per certificate
NA
Off Market Transfers from the Demat Account
₹10 per transaction
NA
Modification in CML
₹25 per request
NA
Deposit using Netbanking
₹10
NA
Call & Trade charges
₹500 per order
NA
Money Withdrawal Charges
NA
$5
Dividends
As per Income Tax slab rate
25%
Tax Collected at Source
NA
Above Rs 7 lakh: 5% TCS
Source: Please check on INDmoney website for latest charges.
Is IND money safe or fake?
When it comes to investing globally through an unknown app, a common question comes to our mind, i.e., Whether the INDmoney app is safe or not. The answer to this question is – Yes. INDmoney is a 100% secure application to kickstart your investing journey!
INDmoney is a SEBI registered Investment Advisor, a BSE-registered member, and a prestigious member of the Association of Mutual Funds in India (AMFI).
Further, all your data are managed by Google security partner BISHPFOX (a data security company). Hence, you don't need to worry in terms of safety concerns.
INDmoney – pros vs. cons
Before you make your decision, I am going to share some pros and cons which you must consider before making any decision on whether to choose the INDmoney app for global investing or not:
| Pros | Cons |
| --- | --- |
| Highly Secured Platform | Adding money to your investing account is a little complicated as it doesn't support UPI. |
| Commission-free US stock investment | Poor rating on customer support |
| Hassle-free money transfer to US stock account | Premium services offering not satisfactory |
| Track all family investments, and liabilities in one place | No in-house technical customer support |
| Higher FD rates and assures safety from the government. | |
If you have decided to open your INDmoney Account, I am sharing a step-by-step guide to opening an account in the INDMoney app.
How to open your account in INDmoney?
We have made account opening simpler for you with the following quick steps you need to follow to start your investing journey:
Step 1: Download the INDmoney app from the Android/Apple play store.
Step 2: Create an account by entering the Name, Mobile Number (AADHAR Registered), and Email Id. Make sure you will enter your professional email id so that INDmoney auto-fetch all your investments, loans, and credit cards.
Step 3: Proceed with PAN Verification, which is required to track all Mutual Funds and Stock Investments without any hassle.
Step 4: Proceed with KYC verification by entering the correct date of birth (auto-populated from PAN). INDmoney fetches accurate KYC information from the Central KYC registry.
Step 5: After KYC verification, complete some other personal and professional qualifications as required to complete your profile.
Step 6: Add nominee details – You can add a nominee so that your wealth can pass on to your close ones on any mishappening.
Step 7: Complete email verification by entering the 6-digit code that arrives on your email id.
Step 8: Capture a selfie for verification and attachment in the application form.
Step 9: Read and check declarations and submit lastly.
Step 10: Your INDmoney dashboard is ready to go for global investing.
Whether INDmoney registered with SEBI?
INDmoney is a SEBI registered member having a registered number (INA100012190). Registration with SEBI assures retail investors that their hard-earned money is in safe hands and they can buy and sell transactions without encumbrance.
Thus, for an Indian investor, this is the safe and best App for investing in US stocks which makes a successful journey and provides best-in-class service for diversifying the portfolio to get higher returns.
What are the INDmoney alternatives?
Although there are also many alternative apps for investing in Indian companies, INDmoney can be the best App for you if you want to invest directly in a US company's stocks and track all your net worth from one place.
In my opinion, Vested is the best alternative to the INDmoney app.
Also Read: INDmoney vs Vested Finance – Best app to invest in the U.S. market
Apart from Vested App, ICICI directs' Global Investment account is also one of the best options to invest in the US market.
Conclusion.
The INDmoney App is a valuable tool for managing your finances, diversifying your portfolio, and earning higher returns. It offers a variety of features that make it easy to track all your family investments, liabilities, and net worth and earn a higher return through US stock investment and SuperSaver FD under one App.
However, high fund withdrawal charges ($5) and lack of customer support make INDmoney sometimes can give an uncomfortable experience while using the App.
INDmoney allows you to track all your family investments/liabilities (including loans and credit cards) and meet your financial goals much faster. All this comes with zero charge/commission in a single app. And that's why it is known as a SuperApp for all your financial needs.
Best of luck
Disclaimer: The above article is for educational purposes only. We have tried my level best to present all the features of the app as per my experience. However, we disclaims any responsibility for any investment done through the app or any variation in information provided. Always refer to companies website for latest charges, offers and features. We don't endorse the above app and guarantee earnings from the above methods as it is based on my personal experience. Some links on this page may contain affiliate links and we may receive a commission if you click and purchase from the links. For more detail, please read our disclaimer.
Subscribe to Learn Smart Income Ideas
Subscribe to our weekly newsletter and never miss the latest TIPS on Smart Income Ideas to Make Money Online. No Spam, No promotion. You will get only one newsletter per week. Get your copy now