If you want to diversify your portfolio by investing in the US Market, Vested App and INDmoney could be the best ways to invest in US stocks with Zero Commission for Indian investors. The article will cover An Ultimate Unbiased Vested App Review to discover its features, charges, and pros and cons of Vested App.
This article will review the Vested trading account, including account features and how to kickstart your first global investing journey. The article will also answer the question "Is Vested the right investment app for the US market Investing?"
What are the features of a brokerage account with Vested Finance?
On the Vested App, you will find multiple features that will help you to make your global market investing easy. Some of the significant features are:
1. Global Stock market Investing
Investing in US stocks was not so easy for investors outside the USA. But, Vested Finance helps investors from anywhere in the world to easily invest in the US stock market.
The account opening process is also very easy. You can complete all the KYC formalities from home. Vested has partnered with many international banks to provide these services at a reasonable cost.
2. No Cost 3-in-1 Vested Account for US investing.
You will not have to pay to open an account with Vested Finance. On successful account opening, you will get Access to a 3-in-1 Account under one App, i.e., Trading A/c, a Demat Account, and a Bank Account (in partnership with SBM Bank India).
While Demat and Trading Account will help you to trade in US stocks, the Bank account is for the withdrawal and remittance of the amount from your Indian account to your US stock account.
3. Options to invest in multiple financial products
With Vested Finance, you have multiple options to invest your money in the US market, such as stocks, ETFs, Crypto, etc. Let's discuss each in detail.
Stocks
With the Vested App, it is now possible for Indian Investors to invest in the most popular companies listed on international stock exchanges like NYSE, NASDAQ, and Dow Jones.
You can even invest $1 to get fractional shares of million-dollar companies and take advantage of portfolio diversification.
ETFs
ETFs are Exchanged Traded Funds similar to mutual funds. It is a collection of stocks/bonds traded on a stock exchange. ETFs are traded on the US stock exchange, and it is an easy and cheap way to get exposure to a sector to invest effectively.
You can invest in ETFs in the US stock market through your Indian Vested account. ETF is an excellent tool for making a solid and diversified portfolio and gives three primary advantages: Easy Investing, Cost Effective Investment, and tax efficiency.
4. Invest in OTC (Over-the-Counter) Market
Cryptocurrencies are traded in the OTC (Over-the-Counter) Market. The securities not listed in major stock market exchanges are traded in the OTC market. You can invest in cryptocurrencies like- bitcoin, Ethereum, etc., through greyscale securities with your brokerage account with Vested.
Greyscale is one of the world's largest digital currency asset managers, registered by the US market regulator SEC. Apart from that, your account is secured for up to $500k under SIPC (Securities Investor Protection Corporation) insurance which minimizes your risks.
Investing in cryptos through greyscale securities is also tax-efficient for Indian investors as you can save 30% tax levied in India. However, you must remember that investing in Cryptocurrencies has its inherent risk.
5. Invest in Vests – Specially curated portfolio.
Vests are curated portfolios comprising a mix of stocks and ETFs managed by expert fund managers. Vests are built in such a way as to provide a theme-based portfolio to investors to keep the assets diversified.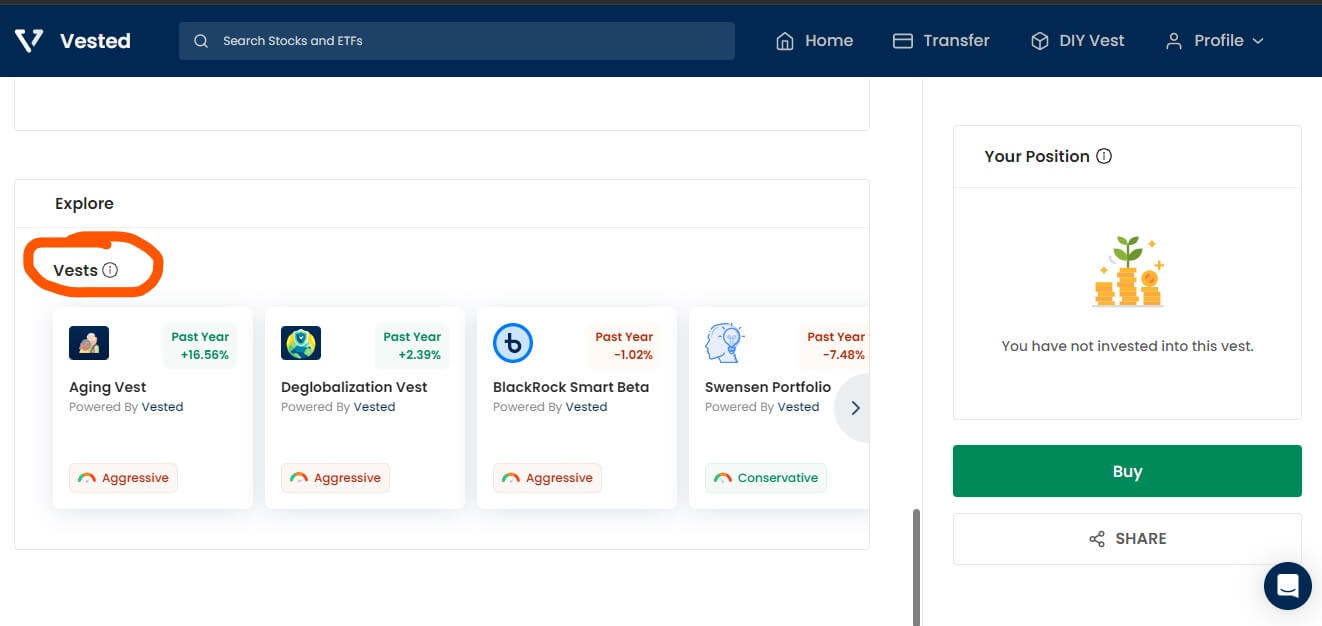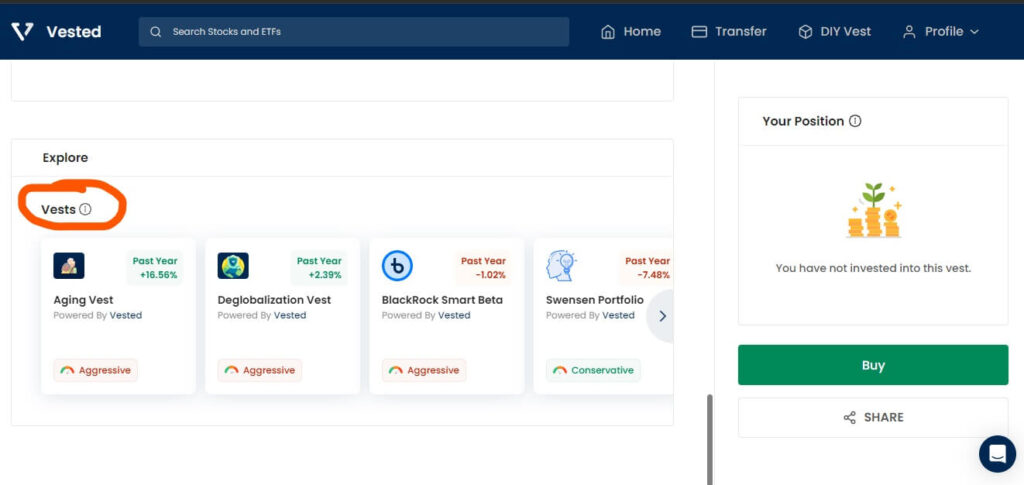 Regular re-balancing as per market situation is the critical feature of Vests which not only maintains the portfolio's performance but also protects against downside risks. Vests have been created per different risk profiles of investors, i.e., Conservative, Moderate, and Aggressive.
Indian Investors can choose vests for diversification or to focus their investments on specific industries or sectors.
6. Free Access to high-quality market research data
With a Vested brokerage account, you get free Access to high-quality share market data for US market stocks. You get all the data to do fundamental and technical analysis of a particular stock/ETF.
Critical data like past return history of stocks, key fundamental ratios, analyst research reports, etc., helps you analyze stock performance. Apart from that, there is also a feature to set alerts for movement in stock prices and other important announcements by the companies regularly. You also get customer support through telephone and email to solve your query in real-time.
7. Vested Direct for easy fund transfer
Fund transfer to US brokerage is the biggest concern for Indian investors to invest in the global market. Vested Finance has launched Vested Direct to solve these problems.
Vested Direct works as a wallet where you can load funds from an Indian bank account to a US brokerage account within 24 hours after approval from a partner bank. In India, Vested has partnered with SBM Bank. The process is very simple.
Firstly you have to open a Vested Direct account which automatically creates a savings account with SBM Bank India. So to transfer USD to your brokerage account, you need to transfer funds to a Vested Direct account through the net banking facility of SBM Bank.
The funds are credited to your US account within 24 hours of approval by the bank. All this comes with zero transaction fees.
8. Securities Lending Income Program (SLIP)
SLIP is a program created for those who don't want to sell their stocks but also want to make money from their portfolio other than the dividend. The Securities Lending Income Program is a way to make money by lending your securities.
However, all the securities are not eligible for lending. Only securities with high demand in the lending market are eligible for lending. The earning interest depends on the intensity of demand.
There is no restriction on the sale of your stocks. You can sell your shares whenever you want. Apart from that, you also get dividend income. The income under the program was accrued on a daily basis but paid on a monthly basis. You can enroll or opt out of enrollment anytime from the program in your profile section.
However, Stock lending also has some drawbacks. For example, stocks lend out are not covered under Securities Investor Protection Corporation (SIPC) insurance. Further, you need to be a premium member to qualify for the security lending program.
What are the Vested Account Charges/fees?
Vested App offers Zero Commission US investing for Indian Investors. Therefore, it is now possible to buy any US shares in less than one share for a beginner investor/finance professional. Although, there is no commission on buying and selling shares, there are other charges.
There are high vested withdrawal charges of $5 on every withdrawal request you make when placing the fund withdrawal request on the Vested App. Also, there are variable charges levied by vested finance on fund transfers made via Vested Direct or Traditional Banks.
On depositing funds via vested direct, you will be charged ₹45/- and GST fees if the transfer amount is upto ₹25,000/- Further, the vested App charges 0.5% of the investment amount (up to max. $3) if you purchased pre-built portfolios prepared by Vested in-house.
Vested has two types of plan i.e. Basic Plan or free plan and Premium Plan. Premium plan has more features than basic like- no charges for investing in Vests, two free withdrawals per year, etc.
US Stock Brokerage Charges
Stock market Features
Basic Plan
($0)
Premium Plan
($4.99/month)
Account Opening Charges
$0
$0
Commission for trading
$0
$0
Withdraw funds to traditional bank accounts
$5/withdrawal
2 free withdrawals/year
($5/withdrawal after that)
Investing in Vests
0.5% of order value
(Max: $3)
$0
Charges for OTC securities (Crypto funds, European companies)
$0.10/share
(Min. $0.75, Max: 1% of order value)
$0.05/share
(Min. $0.75, Max: 1% of order value)
Disclosure: Check vested finance for latest charges
Is a Vested Account- safe or fake?
The first question that now comes into our mind is whether vested is safe to invest your funds in US stocks/ETFs or not. Vested App is a US Securities and Exchange Commission Registered Advisor. Also, they are working under the strict guidelines and policies prescribed by the Reserve Bank of India.
Regarding safety and security, the Platform uses 256-bit encryption and an SSL certificate to ensure the security of all users' information. The vested App is committed to providing the best services to Indian Investors to invest in US stocks and ETFs easily.
What are the pros and cons for brokerage account at Vested finance?
Like any other trading platforms, Vested finance also has its own advantages and disadvantages. Before investing through Vested you must aware of all the limitations. As per my experience, I have curated a list of pros and cons that you should consider before investing through Vested Apps.
Pros
Zero Account Opening Fees.
$0 Commission-free US stock investment
0% transaction fees.
Hassle-free money transmission to US stock account.
NRI can also eligible to use the Vested App.
Highly Secured Platform with 256-bit encryption and SSL layer.
Investment in fractional shares can be possible
Cons
$5 charge on every withdrawal on a free plan.
Complex Process of fund transfer and withdrawal.
Not authorized by SEBI directly.
Premium services are not upto the mark and too high for a beginner investor.
Extra upfront fees for use of Vested curated portfolios.
Focused on the international market only with limited products for investment.
How to open your account in Vested?
Opening of Account in Vested is simple. Here is a step-by-step guide that you need to follow to open an account. You can get $10 by entering any promo code for your friend/relative.
Step 1: Download the Vested App from the Android/Apple play store or continue from the browser.
Step 2: Create an account by Signing up with your email id, or you can log in directly with your Gmail Account.
Step 3: Proceed with KYC verification with three simple steps to start investing in US Stocks and ETFs.
Submit your KYC with the following details:
You must have your registered mobile number and make a declaration that applies to you.
Submit some general questions required to complete
Submit your correct income source with a yearly income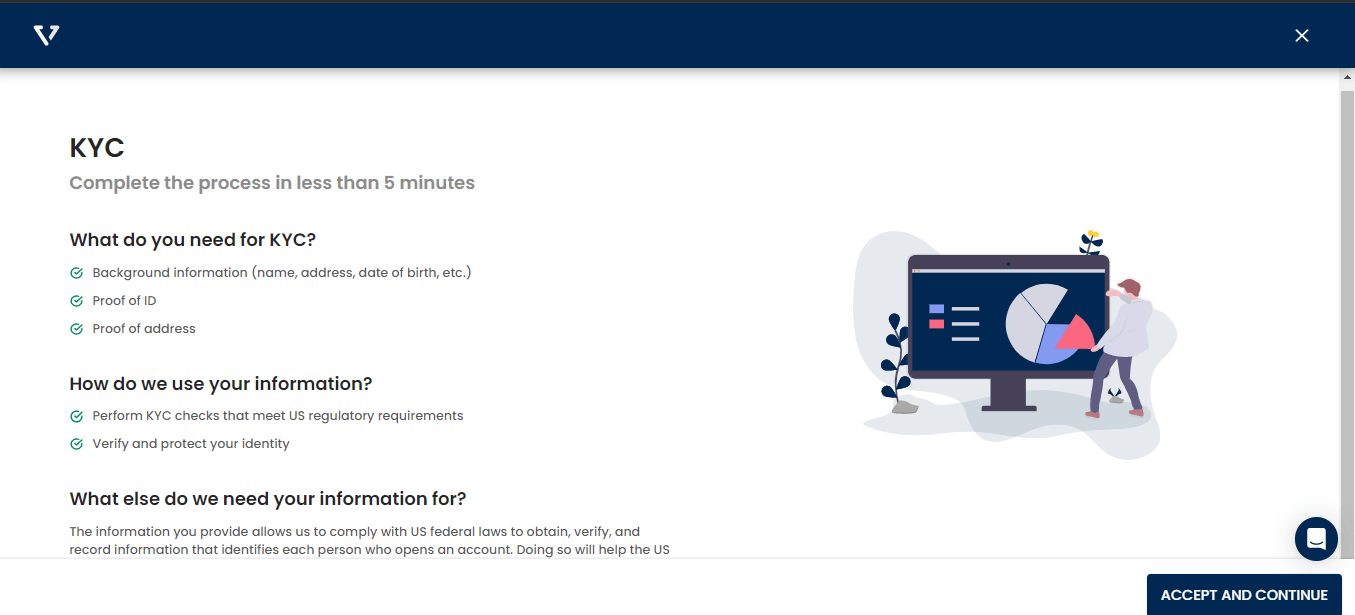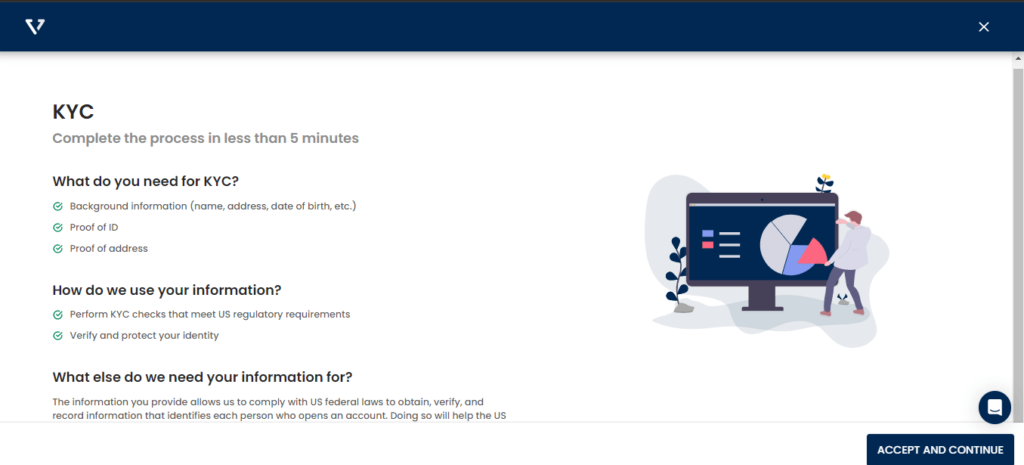 Step 4: Upload any of the documents such as AADHAR, Driving License, PAN card, and Passport that match your name with your bank account. A PAN card number is compulsory to declare to get started.
Step 5: Choose your plan. You can choose either a free or premium plan worth ₹4500/year. Initially, you can start with a free plan as you will not require premium plan facilities.
Step 6: Submit the KYC form with the accurate declaration.
Step 7: Wait for KYC approval. Vested takes 1-3 business days to review your documents.
Step 8: After KYC approval – Fund your Vested Trading app and take the next step towards investing in the US stock market
Whether Vested registered with SEBI?
Vested is not a SEBI-registered platform in India. But they are registered investment advisors with Security & Exchange Commission (SEC), a US government agency that monitors finance and stock market-related transactions.
If you have a question like whether vested is trusted or not, you must note that SEC is similar to SEBI. The only difference is that they operate in the US rather than India.
Vested App operates in India with RBI's Liberalised Remittance Scheme (LRS). This scheme comes under RBI policy and allows an individual to send up to $2,50,000 abroad annually without seeking approval from RBI.
This means that you can only invest abroad up to $2,50,000; after that, you have to take RBI approval if you are planning to invest in the US market via the Vested App.
What is the Vested App alternative?
The best alternative App compared to the Vested App is INDmoney which has almost similar features as Vested. While INDmoney is an India-registered company, Vested is registered in the USA.
Also Read: A comprehensive review of All-in-one Finance App: INDmoney
Another best alternative to Vested App is ICICI directs' Global Investment Account if you have ICICI Direct DEMAT Account. You will have to choose this option through the bank's website separately.
Also Read: INDmoney vs Vested Finance – Best app to invest in the U.S. market
ICICI Direct has a partnership with Interactive Brokers LLC, which is a US-based brokerage firm. However, the only drawback is the high brokerage charges.
Final Thoughts
To sum up, the Vested Invest app is a good tool for managing investments in US stocks. However, Vested also has some drawbacks like- high charges, not being registered under SEBI, etc.
However, if you are an investor who wants to diversify your portfolio, Vested App could be one of the most trusted ways to participate in the US market.
Best of luck.
Disclaimer: The above article is for educational purposes only. We have tried my level best to present all the features of the app as per my experience. However, we disclaims any responsibility for any investment done through the app or any variation in information provided. Always refer to companies website for latest charges, offers and features. We don't endorse the above app and guarantee earnings from the above methods as it is based on my personal experience. Some links on this page may contain affiliate links and we may receive a commission if you click and purchase from the links. For more detail, please read our disclaimer.
Subscribe to Learn Smart Income Ideas
Subscribe to our weekly newsletter and never miss the latest TIPS on Smart Income Ideas to Make Money Online. No Spam, No promotion. You will get only one newsletter per week. Get your copy now